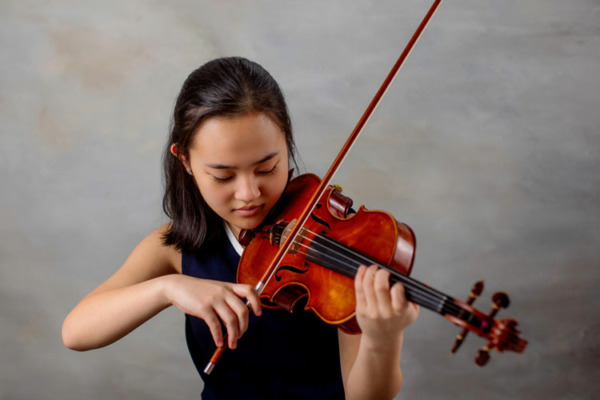 CHS Sophomore Kaitlyn Kaminuma Selected to Carnegie Hall National Youth Orchestra 2
Sole musician from Massachusetts chosen the last two years
CHELMSFORD, MA (May 26, 2021) – Chelmsford High School sophomore violinist Kaitlyn Kaminuma was selected to Carnegie Hall's National Youth Orchestra 2 (NYO2) for the second straight year, the esteemed Manhattan-based musical institution announced recently.
Ms. Kaminuma, 16, who is the sole musician from Massachusetts to be chosen, earned the honor for the second straight year and will join an orchestral ensemble comprised of 80 musicians nationwide, aged 14-17 years. She was also selected as an alternate to the National Youth Orchestra of the United States of America (NYO-USA).
Carnegie Hall's NYO-USA, NYO2 (the 'sister' ensemble to NYO-USA for younger teens) and NYO Jazz ensembles recognize the finest young musicians from across the country and invites them for month-long summer residencies from which they learn and work with some of the finest conductors and musical minds in the world.
"I was definitely shocked because the program and the audition process is very competitive, and I never thought I would get in," Ms. Kaminuma said. "I was also extremely excited because it's a very special opportunity. My older brother (Richard, CHS '16) was the apprentice conductor of NYO-USA in 2018, and I went to NYO's concert that summer. Their performance was incredible, and my brother had a fantastic time there. So ever since then I've always wanted to be a part of the NYO program. I was so happy that I was accepted!"
Ms. Kaminuma will attend Carnegie Hall's intensive summer program for the month of July, at the State University of New York (SUNY) at Purchase, for a month of private lessons, master classes, collaboration and performances. Conductor Mei-Ann Chen, Music Director of the Chicago Sinfonietta and Conductor Laureate of the Memphis Symphony Orchestra, will lead the NYO2 ensemble, while Joseph Young, the Artistic Director of Ensembles at the Peabody Institute at Johns Hopkins, will serve as a Resident Conductor.
For the audition, Ms. Kaminuma submitted a solo piece (the first movement of Vieutemps Concerto No. 5 in A minor); two excerpts of short passages of orchestra pieces; an essay about her experience as a musician; a video clip of answers to assigned questions; as well as a formal recommendation from a teacher, school administrator, ensemble director or community leader.
Ms. Kaminuma will travel to Purchase, NY (just north of New York City) on June 26 where she will quarantine with her peers until the NYO2 summer session begins on July 5. In previous years, the residency included a performance at the renowned Carnegie Hall. A live performance is in doubt this summer, however, since the Hall remains closed until the fall due to the Covid-19 outbreak.
All three ensembles will learn and perform new works specifically written for them. "As a musician, I'm really excited to learn new pieces and explore different kinds of music," Ms. Kaminuma said. "It can be stressful, but I'm more excited and enthusiastic about it especially since I haven't played with an orchestra in so long. I'm extra motivated to learn and play with other musicians again."
While she was unable to play with the CHS Orchestra during this academic year due to time constraints, Ms. Kaminuma plans to return for her junior and senior years. "I definitely want to continue playing the rest of my life," she noted. "I would like to attend a college that has a very good orchestra. It's a main focus in my life."
Ms. Kaminuma, who has studied under Fudeko Takahashi Cohler of the New England Conservancy since 2016, has already compiled a remarkable list of achievements. She earned first prize in the 2017 Roman Totenberg Youth Strings competition and followed with first prize in both the Grand Prize Virtuoso International Competition (2018) and the Great Composers Competition 2019-Music of the 19th Century. She is also a member of the Boston Youth Symphony Honors Chamber Music Ensemble.
Ms. Kaminuma's selection to the NYO2 is the latest in what has been a year of accomplishments for the CHS Fine and Performing Arts Department:
In mid-April – for the ninth consecutive year – Chelmsford Public Schools was named among the Best Communities for Music Education by the National Association of Music Merchants (NAMM) Foundation.
Both CHS's a cappella groups – The Thursdays and The Crescendos – reached the semifinal round of the International Championship of High School A Cappella (ICHSA). The Thursdays won the Northeast Region semifinal and advanced to the final along with seven other high school a cappellas across the country.
In early April, 20 student musicians from Chelmsford High School and the Parker and McCarthy middle schools were selected to the Massachusetts Music Educators Association (MMEA) Northeast District Junior Music Festival.
Recently, Chelmsford High School's two a cappella groups, The Thursdays and The Crescendos, finished first and second, respectively, in the International Championship of High School A Cappella (ICHSA) Northeast Quarterfinal, with The Thursdays since ascending to the ICHSA Northeast Region final.
In November, junior Sachi Badola received the monthly TAMY Award as the recipient of the Best Musical Theater Solo by Mount Wachusett Community College's Theater At the Mount. Ms. Badola was one of five finalists for the honor, along with CHS senior Allison Dorsey, in a field of 45 entries.
In March, sophomore cellist Grace Saba was selected to attend the prestigious Philadelphia International Music Festival July 17-23. Additionally, senior trumpeter Alex Moore was selected to the West Virginia University Mountaineer Honor Jazz Band Ensemble.
In February, eight CHS musicians were selected to participate in the 2021 Massachusetts Music Educators Association (MMEA) All-State Ensemble. In November, 24 CHS musicians qualified for the MMEA Northeastern Senior District Music Festival while 17 musicians earned All-State recommendation.
About Chelmsford Public Schools
The Chelmsford Public School District provides all students with multiple pathways to optimize their own potential for academic excellence, leadership, and social and emotional wellness. The mission of the Chelmsford Public Schools is to educate, engage, prepare, and empower well-rounded and knowledgeable learners to PERSEVERE through challenges, demonstrate RESPECT and INTEGRITY in their words and actions, are DEDICATED to their community, and display EMPATHY as global citizens while discovering and pursuing their full potential.  This PRIDE-driven culture enables all members of the school community to support the growth and development of students.  For more information, please visit chelmsfordschools.org.