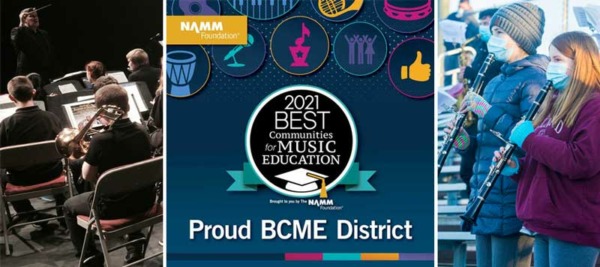 Nine Straight Years: Chelmsford Public Schools Named Among NAMM Best Communities for Music Education
CHELMSFORD, MA (Apr. 16, 2021) – For the ninth consecutive year, Chelmsford Public Schools was named among the Best Communities for Music Education by the National Association of Music Merchants (NAMM) Foundation, the Foundation announced Monday.
In its 22nd year, NAMM's Best Communities for Music Education award program recognizes outstanding efforts by teachers, administrators, parents, students and community leaders who have made music education part of a well-rounded education. Designations are made to districts and schools that demonstrate an exceptionally high commitment and access to music education.
"This was a very different type of year for music in our schools," says CPS Fine and Performing Arts Coordinator Dr. Christy Whittlesey. "Through it all, our faculty has worked extremely hard to find innovative approaches to keep students engaged in music-making and learning regardless of whether music instruction has been taught virtually or in-person. I have been consistently amazed by the dedication and creativity of our staff, the support and engagement of families, and the flexibility and resiliency of our students. All of our teachers, young musicians, and their families deserve to be recognized for their efforts."
In previous academic years, Chelmsford Public Schools stage roughly 50 musical performances per year, from kindergarten to grade 12. While Covid-19 has curtailed most live performances, Chelmsford student musicians have remained in form, performing virtually in the Music In Our Schools Month as well as the CHS Marching Band at varsity football games.
Despite the pandemic, the honor is the latest of several bestowed upon CPS musicians and performers this year:
In early April, 20 student musicians from Chelmsford High School and the Parker and McCarthy middle schools were selected to the Massachusetts Music Educators Association (MMEA) Northeast District Junior Music Festival.
Recently, Chelmsford High School's two a cappella groups, The Thursdays and The Crescendos, finished first and second, respectively, in the International Championship of High School A Cappella (ICHSA) Northeast Quarterfinal, with The Thursdays since ascending to the ICHSA Northeast Region final.
In November, junior Sachi Badola received the monthly TAMY Award as the recipient of the Best Musical Theater Solo by Mount Wachusett Community College's Theater At the Mount. Ms. Badola was one of five finalists for the honor, along with CHS senior Allison Dorsey, in a field of 45 entries.
In March, sophomore cellist Grace Saba was selected to attend the prestigious Philadelphia International Music Festival July 17-23. Additionally, senior trumpeter Alex Moore was selected to the West Virginia University Mountaineer Honor Jazz Band Ensemble.
In February, eight CHS musicians were selected to participate in the 2021 Massachusetts Music Educators Association (MMEA) All-State Ensemble. In November, 24 CHS musicians qualified for the MMEA Northeastern Senior District Music Festival while 17 musicians earned All-State recommendation.
Chelmsford was one of only 12 Massachusetts school systems to earn the honor, which also included Merrimack Valley neighbors Acton-Boxborough, Billerica, Dracut, North Andover and Westford. Other Bay State school districts on the list were Marblehead, Pentucket, Southern Berkshire, Wakefield, Wayland and Weston.
About Chelmsford Public Schools
The Chelmsford Public School District provides all students with multiple pathways to optimize their own potential for academic excellence, leadership, and social and emotional wellness. The mission of the Chelmsford Public Schools is to educate, engage, prepare, and empower well-rounded and knowledgeable learners to PERSEVERE through challenges, demonstrate RESPECT and INTEGRITY in their words and actions, are DEDICATED to their community, and display EMPATHY as global citizens while discovering and pursuing their full potential.  This PRIDE-driven culture enables all members of the school community to support the growth and development of students.  For more information, please visit www.chelmsford.k12.ma.us.