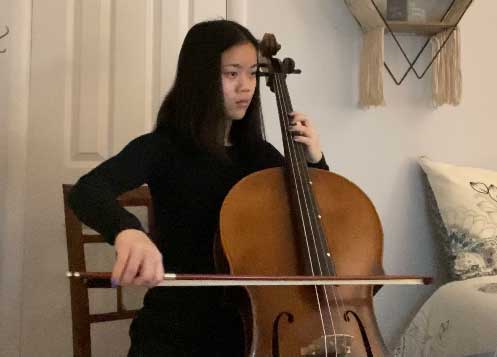 Sophomore Grace Saba Earns Invitation to Philadelphia International Music Festival
Sophomore cellist one of 60 students chosen for Symphony Orchestra Senior Division
CHELMSFORD, MA (Mar. 18, 2021) – Grace Saba, a sophomore cellist at Chelmsford High School, was selected to attend the prestigious Philadelphia International Music Festival, July 17-23 at Bryn Mawr College in Bryn Mawr, Pa.
Ms. Saba will join 60 students from around the country and worldwide selected to the Symphony Orchestra Senior Division program (ages 14-19). She will spend the week engaged in activities – from 8 a.m. until 9 p.m. – such as master classes and private lessons with members of the esteemed Philadelphia Orchestra; daily orchestra rehearsals; ear training, music theory and music industry classes, as well as a Grand Finale Concert at the end of the week.
The renowned Festival has long staged several weeks of summer camps for musicians, including Piano Studies, Solo Performance Preparation, intensive classes in Chamber Music and solo work, and College Audition Preparation.
Ms. Saba was informed of the Festival by her cello instructor of four years, Karyn Crouthamel, just two weeks prior to her audition. Ms. Saba admits she was impressed by the Festival – especially since she could attend in-person – but initially wasn't sure she would make the cut. "I thought it looked really interesting, but I didn't think I would make it," she said. "It's very limited and international, and I just thought, 'no way.'"
Ironically, auditioning took some convincing from Ms. Crouthamel and her mother, Michelle, but Ms. Saba submitted two pieces – Bach Cello Suite I in G Major and Squire Tarantella – and a scale. Forty-eight hours later, she received the welcome e-mail.
"Grace definitely has come a long way since the seventh grade, when I first had her," said Ms. Crouthamel. "Her confidence has grown immensely and it's great to see. I think she started realizing that she might be good at this and I think that extra motivation comes when she realizes she does have potential."
Ms. Saba made the most of the Covid-19 pandemic, working extensively on Bach Cello Suite I and Squire Tarantella and refining her technique. "I worked on it to perfect for this summer," she noted. "I definitely worked hard and for a long time on each piece."
Her instructor agreed: "What Grace did was end up practicing more. I applaud her because she really took to more practicing and found more love for her instrument when other kids seemed lost. The natural ability is there, and I think she realized that."
Kate Comeau, the Director of Orchestras at Chelmsford High School, has had Ms. Saba as a student for two years (and is looking forward to two more). "I've had students do music camps in the summer, but not this kind of camp," Ms. Comeau said. "You're competing with musicians from all over the world. Grace is a very hard worker, very coachable, and responds very well to instruction and feedback and puts it into practice."
Both Ms. Crouthamel and Ms. Comeau are excited to see the results.
"She's got something good going," said Ms. Crouthamel. "She's on the right track. It's going to be an amazing opportunity for her just to be with other musicians from other states and other countries."
Ms. Saba is the daughter of Stephen and Michelle Saba of Chelmsford.
About Chelmsford Public Schools
The Chelmsford Public School District provides all students with multiple pathways to optimize their own potential for academic excellence, leadership, and social and emotional wellness. The mission of the Chelmsford Public Schools is to educate, engage, prepare, and empower well-rounded and knowledgeable learners to PERSEVERE through challenges, demonstrate RESPECT and INTEGRITY in their words and actions, are DEDICATED to their community, and display EMPATHY as global citizens while discovering and pursuing their full potential.  This PRIDE-driven culture enables all members of the school community to support the growth and development of students.  For more information, please visit www.chelmsford.k12.ma.us.