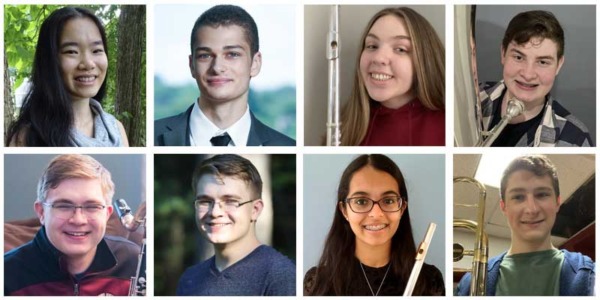 Eight Chelmsford H.S. Musicians Earn MMEA All-State Honors
Alex Moore, Ryan Moore named to First Seat; Two named to Western International Band Clinic
CHELMSFORD, MA (Feb. 15, 2020) – Eight musicians representing Chelmsford High School's Orchestra and Band have been selected to participate in the 2021 Massachusetts Music Educators Association (MMEA) All-State Ensemble, the Association announced Thursday.
Highlighting Chelmsford's success were senior twins Alex Moore (trumpet) and Ryan Moore (bass clarinet), who received first chair honors and were among the top scorers in the state. Joining them on the All-State Ensemble were seniors Lily Hoyt (cello) and Ethan Meltzer (string bass); sophomore Sarah Buliszak (flute) and freshmen Kyle Pinto (trombone), Jack Tallent (tuba) and Keya Upadhyay (flute).
The eight student-musicians were among 24 who were named to the MMEA Northeast Senior Ensemble – which drew more than 1,100 submissions – and 17 who earned All-State recommendation on Nov. 30, 2020.
"We are so proud of these students," said Dr. Christy Whittlesey, Pre-K-12 Fine and Performing Arts Coordinator at Chelmsford Public Schools. "Their accomplishments demonstrate admirable resiliency and commitment to their craft. In addition, the Chelmsford Fine and Performing Arts teachers have done an amazing job finding ways to support and engage their students this year. Their students' success is a direct result of their commitment and their creative approaches to education."
With the honors, all eight student-musicians will participate in a virtual master class with music industry leaders on Saturday, Mar. 6, and will have their performance featured in the MMEA Virtual All-State Concert this spring (date to be announced). Among the leaders are conductor John Hollenbeck of McGill University; Dr. Jonathan Girard of the University of British Columbia; and Dr. Robert Carnochan of the University of Miami.
The MMEA All-State honor was one of two for Ms. Upadhyay and Mr. Tallent, who were two of eight CHS students named to the Western International Band Clinic. Joining them are junior Dan Schiefen (trombone), sophomores Brian Miller (trumpet), Bennet Prees (trombone) and Hannah Wolman (oboe); and freshmen Holden Crouthamel (trombone) and Carter Lindberg (baritone saxophone). Junior Nick LaCava (percussion) was named an alternate.
Chelmsford's WBIC honorees, who were selected among 350 nationwide, will engage in virtual conferences and master classes with renowned composer Frank Tichelli as well as a host of professionals and band leaders nationwide Feb. 21-22. The WBIC virtual performance is also slated for the spring.
About Chelmsford Public Schools
The Chelmsford Public School District provides all students with multiple pathways to optimize their own potential for academic excellence, leadership, and social and emotional wellness. The mission of the Chelmsford Public Schools is to educate, engage, prepare, and empower well-rounded and knowledgeable learners to PERSEVERE through challenges, demonstrate RESPECT and INTEGRITY in their words and actions, are DEDICATED to their community, and display EMPATHY as global citizens while discovering and pursuing their full potential.  This PRIDE-driven culture enables all members of the school community to support the growth and development of students.  For more information, please visit www.chelmsford.k12.ma.us.