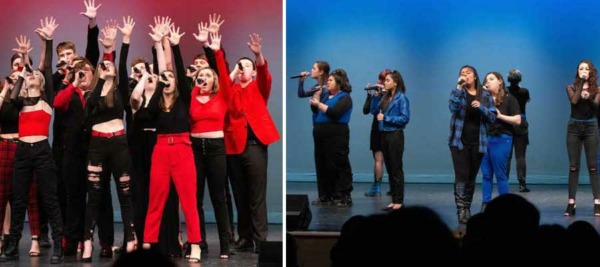 CHS's The Thursdays, Crescendos Finish 1-2 at ICHSA Northeast Region A Cappella Quarterfinal
Both groups advance to semifinal round to be determined after Apr. 10
WATCH:
CHELMSFORD, MA (Mar. 31, 2021) – Chelmsford High School's two a cappella groups – The Thursdays and The Crescendos – finished first and second, respectively, at the International Championship of High School A Cappella (ICHSA) Northeast Quarterfinal 1 round, held virtually this year.
The Thursdays and The Crescendos were among nine teams in their quarterfinal bracket, which included a cappella groups from all around New England including The Wheeler School (Providence, R.I.), Hanover (N.H.) H.S., Richfield (Ct.) H.S. and Bristol (Ct.) H.S. among others. The competition, founded in 2001, drew more than 150 high school a cappella groups representing eight regions this year.
With the results, both The Thursdays and The Crescendos qualify for Northeast Region semifinal round to be virtually judged after Apr. 10. Semifinal round winners advance to the final tentatively scheduled at The Town Hall Theatre in New York City, date to be announced.
"That both of our a cappella groups are moving on to the semifinals is super gratifying," said advisor Amanda Roeder, the CHS Choir Director, who oversees both groups. "These kids have worked together and they're super-supportive. They're in chorus and musicals together. It definitely motivates them to do their best."
Jackie Pottle, a junior member of The Thursdays, was named the Outstanding Soloist of the Northeast Quarterfinal 1 region. "Jackie has really outstanding technique," Ms. Roeder said. "She has a remarkable capacity for improvising her riffs. She is really well-controlled with the touches she adds to her interpretation."
The Thursdays performed Evergreen by Yebba led by Ms. Pottle, while The Crescendos performed a combination of the U2 classic I Still Haven't Found What I'm Looking For, led by junior Lily Daigle, and Otherside by Perfume Genius, performed by sophomore Nhyira Nkansah.
Graded by five judges, The Thursdays garnered 378 points while The Crescendos scored 358 and The 18 Wheelers of The Wheeler School 323 points. Groups earned points according to musical, vocal and visual quality as well as video editing, a new category effective this year.
"In addition to scoring, we get individual feedback," Ms. Roeder explained. "We spent a day last week going through the feedback to help us in the semifinal round. The scores between our two groups were quite close. That was really nice to see."
The results from both groups are perhaps more remarkable considering each group rehearses remotely once a week. "In a typical year, we rehearse in person anywhere between 2-4 times a week," Ms. Roeder said. "This year there has been a lot more emphasis on working alone."
Both The Thursdays and Crescendos have seen recent success in the ICHSA tournament. The Thursdays advanced to the final round three straight years – 2017, 2018 and 2019 (in which the group placed third) – while The Crescendos advanced to the semifinal round in 2019. Both groups moved on to the semifinal round in 2020 before the competition was cancelled due to the Covid-19 outbreak.
Each group submitted their semifinal performances on Monday, Mar. 29.
About Chelmsford Public Schools
The Chelmsford Public School District provides all students with multiple pathways to optimize their own potential for academic excellence, leadership, and social and emotional wellness. The mission of the Chelmsford Public Schools is to educate, engage, prepare, and empower well-rounded and knowledgeable learners to PERSEVERE through challenges, demonstrate RESPECT and INTEGRITY in their words and actions, are DEDICATED to their community, and display EMPATHY as global citizens while discovering and pursuing their full potential.  This PRIDE-driven culture enables all members of the school community to support the growth and development of students.  For more information, please visit chelmsfordschools.org.