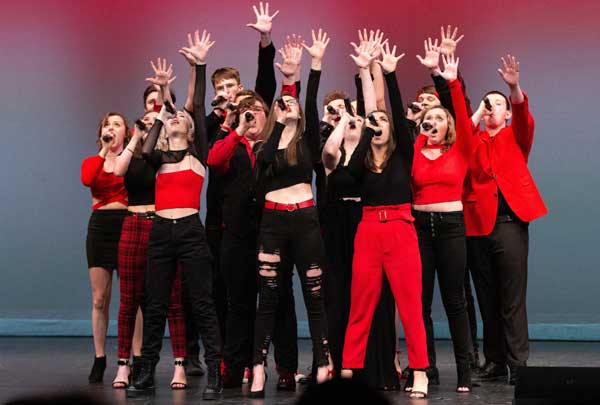 CHS's The Thursdays Gear for ICHSA National Championship Saturday
Fourth straight national championship appearance for CHS a cappella
CHELMSFORD, MA (May 6, 2021) – The Thursdays, an a cappella group from Chelmsford High School, will enter the International Championship of High School A Cappella (ICHSA) national championship Saturday night (5 p.m.), viewable on the ICHSA Varsity Vocals YouTube page.
The national championship appearance marks the fourth straight for The Thursdays, as they qualified in 2017, 2018 and 2019 – the latter in which they placed a best-ever third in the U.S. (the 2020 ICHSA was cancelled due to the Covid-19 outbreak). In traditional years, the ICHSA national final is staged at New York City's Town Hall Theater, but will be held remotely with a cappellas submitting videos of their performances.
The Thursdays created a video for and performed 'Evergreen' by the artist Yebba for each of the rounds.
"They're pretty pleased and quite proud of their accomplishments," said Amanda Roeder, CHS Choir Director and Advisor to The Thursdays and The Crescendos. "Going into this season they were aware it would be a completely a different format. We had zero experience making videos. I remember them discussing this saying they were going to have fun with it and do the best they can, which I think is exactly the right mindset. It was a very organic process, and completely internally motivated.
"Now that they've made it, they're very proud of themselves they got this far," Ms. Roeder added. "Every year in the past, when we've gone and performed in New York City, I've told them that just being here is the prize. They're among the top eight in the nation."
Other a cappellas which qualified for the national championship include:
Sting (Rockwall H.S., Rockwall, Texas, Wild Card entry)
InToneNation (New Manchester H.S., Douglasville, Ga., South Region)
SoundProof (Prairie Village, KS), Midwest Region
The Ram Jams (Ramsey H.S., Ramsey, N.J., Mid-Atlantic Region)
Knight Club (Oak Creek H.S., Oak Creek, Wisc., Great Lakes Region)
WolfPACapella (Pacifica Christian H.S., Santa Monica, Calif., West Region)
The Ozarks (Springfield, Mo., Wild Card entry)
The Thursdays qualified for the national championship by winning both the ICHSA Northeast Region Quarterfinal and Semifinal as junior Jackie Pottle was named the Outstanding Soloist in both rounds. Senior Josh Timmins received Outstanding Vocal Percussion honors for the semifinal round.
"I think that the group is definitely more excited than nervous," said Mr. Timmins, who will attend Northeastern in the fall (and plans to sing). "This is my third time going to finals with this group. Every year it's always been a more appreciative vibe than a competitive one. The atmosphere in the semifinal round is always a little cutthroat, but the atmosphere in the finals more appreciative than competitive. Everyone is just happy to be there. I do think that attitude through the season has helped us find success."
Members of The Thursdays include:
Senior Maya Chan
Junior Doug Desmarais
Senior Allison Dorsey
Senior Mary Hamilton
Sophomore Georgia Horan
Senior Hannah Fuller
Junior Emily Magnant
Junior Keegan McCarthy
Junior Jackie Pottle
Junior Dan Schiefen
Senior Danny Sousa
Junior Matthew Smith
Senior Josh Timmins
About Chelmsford Public Schools
The Chelmsford Public School District provides all students with multiple pathways to optimize their own potential for academic excellence, leadership, and social and emotional wellness. The mission of the Chelmsford Public Schools is to educate, engage, prepare, and empower well-rounded and knowledgeable learners to PERSEVERE through challenges, demonstrate RESPECT and INTEGRITY in their words and actions, are DEDICATED to their community, and display EMPATHY as global citizens while discovering and pursuing their full potential.  This PRIDE-driven culture enables all members of the school community to support the growth and development of students.  For more information, please visit www.chelmsford.k12.ma.us.