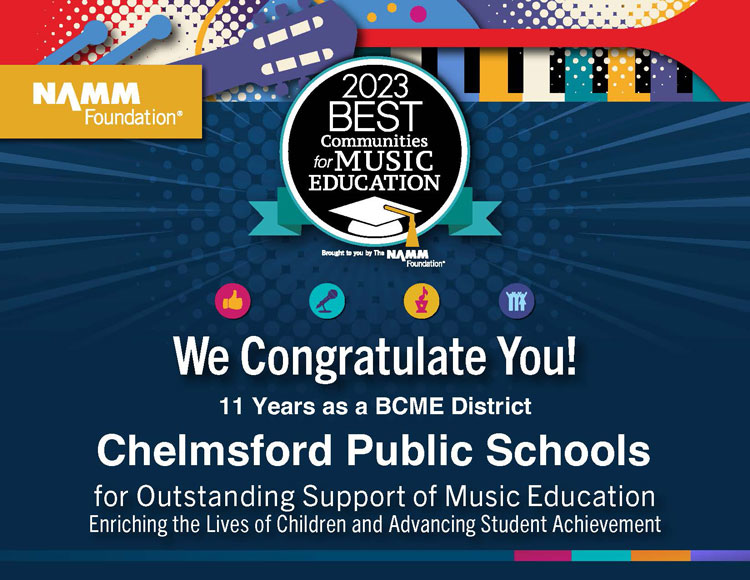 Chelmsford Public Schools Named Among Best Communities for Music Education by NAMM for 11th Straight Year
in News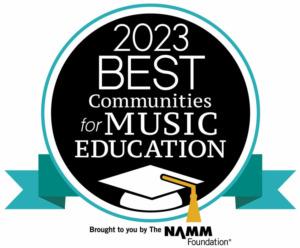 Chelmsford one of 16 Massachusetts school systems honored statewide
CHELMSFORD, MA (Apr. 25, 2023) – For the 11th consecutive year, Chelmsford Public Schools was named among the Best Communities for Music Education by the National Association of Music Merchants (NAMM) Foundation, released Friday.
In its 24th year, NAMM's Best Communities for Music Education award program recognizes the outstanding effort by teachers, administrators, parents, students and community leaders who have made music education part of a well-rounded education. Designations are made to districts and schools that demonstrate an exceptionally high commitment and access to music education.
The NAMM honor program is based upon several key factors of a school district's fine and performing arts programs including funding, graduation requirements, music class participation, instruction time, facilities, support, and community programs. Responses to such are reviewed by the Music Research Institute at the University of Kansas.
"This recognition is a direct result of the dedication, creativity, and passion of our PK-12 music faculty and the support of our Chelmsford community," said CPS K-12 Fine and Performing Arts Coordinator Dr. Christy Whittlesey. "In Chelmsford, we understand that music is an integral component of each child's educational journey, and the entire community benefits from not only the musical skills that are nurtured in music classes, but also through the development of leadership, communication, and critical thinking competencies that students gain by participating in music."
Chelmsford was one of 16 Massachusetts school systems to earn the honor, which also included Merrimack Valley neighbors Acton-Boxborough, Andover, Billerica, Dracut, North Andover, and Westford. Other Bay State school districts earning NAMM honors included Easton, Lexington, Norwood, Old Rochester, Pembroke, Pentucket, Wakefield, Wayland and Weston.
The NAMM honor is the latest of many honors and accomplishments earned by Chelmsford student-musicians and performers this year:
In April, eight ensembles from Chelmsford High School, Parker Middle School and McCarthy Middle School earned silver and bronze medals at the 2023 Massachusetts Instrumental and Chorus Conductors Association (MICCA) Concert Band and Orchestra Festival.
In early April, senior violinist Kaitlyn Kaminuma was named to Carnegie Hall's National Youth Orchestra USA and will embark on a national tour this summer.
On March 19, CHS's two a cappella groups, The Crescendos and The Thursdays placed second and third at the Varsity Vocals ICHSA Northeast Region Semifinal, following a second-third finish at the Northeast Region quarterfinal.
In mid-March, 22 students were named to the MMEA All-State Treble Chorus, which will perform Saturday, Apr. 29 at the Oak Middle School in Shrewsbury, Mass.
In February, eight Chelmsford High School students were inducted into the Tri-M Music Honor Society.
Twenty-two Chelmsford student musicians in grades 6-9 were named to the MMEA Northeast Junior District Festival, which took place Saturday, Mar. 18 at the Galvin Middle School in Wakefield.
Additionally, seven student musicians from CHS were named to the MMEA All-State Festival, performed Mar. 12. The seven were among 19 CHS student-musicians named to the MMEA Northeast Senior District Festival in late November.
Finally, Four CHS student-musicians – seniors Rachel O'Brien and Sarah Buliszak and juniors Kyle Pinto and Keira Miller – were accepted into the renowned Western International Band Clinic in Seattle.
About Chelmsford Public Schools
The Chelmsford Public School District provides all students with multiple pathways to optimize their own potential for academic excellence, leadership, and social and emotional wellness. The mission of the Chelmsford Public Schools is to educate, engage, prepare, and empower well-rounded and knowledgeable learners to PERSEVERE through challenges, demonstrate RESPECT and INTEGRITY in their words and actions, are DEDICATED to their community, and display EMPATHY as global citizens while discovering and pursuing their full potential. This PRIDE-driven culture enables all members of the school community to support the growth and development of students. For more information, please visit www.chelmsford.k12.ma.us.