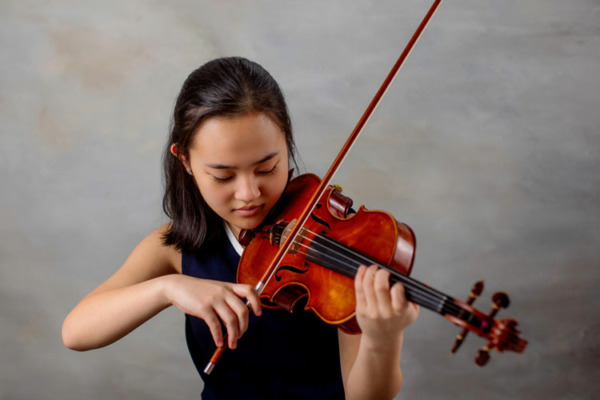 CHS Senior Kaitlyn Kaminuma Named to Carnegie Hall's National Youth Orchestra
in News
NYO-USA 2023 Summer Tour includes July 13 performance at Groton Hill Music Center
CHELMSFORD, MA (Apr. 5, 2023) – Little do most Chelmsford High School students realize, but one of the most promising young violinists in the country roams the same hallways as them.
This summer, she's going on tour.
Senior Kaitlyn Kaminuma will be hitting New York, Dallas, San Diego and other cities across North America throughout the month of July – including a tour-opening performance at the palatial new Groton Hill Music Center – with the Carnegie Hall National Youth Orchestra of the United States of America (NYO-USA).
Ms. Kaminuma was one of 109 student musicians nationwide selected to the NYO-USA on Mar. 7, a program for elite musicians aged 16-19, following three summers of training and performing with the NYO2, Carnegie Hall's program for musicians aged 14-17.
"I was already excited to be part of NYO2, and now I'll finally be part of the older age group," said Ms. Kaminuma, who was named the Hawthorne House Student of the Month in October. "It's very rewarding. It's taught me a lot of lessons and connected me with a lot of diverse people."
NYO-USA musicians will convene at the State University of New York (SUNY) at Purchase in early July for an intensive training residency before opening their North American Tour Thursday, July 13 at Groton Hill, a mere 12 miles from Chelmsford. Twenty-four hours later, they will perform at Carnegie Hall under renowned conductor Sir Andrew Davis.
Ms. Kaminuma expects it will be well attended by her family, friends and even mentors, as well as those of her four New England-based colleagues in the NYO-USA: violinist Joylan Kim of Lexington, violist Eric Zhu of Boston, flautist Emily DeNucci of West Hartford, Conn., and apprentice orchestra manager/violinist Marisa Kono of Shelburne, Vt.
"It's going to be a cool experience," she noted. "I've never played there before."
Following the Groton performance, the NYO-USA will travel to the aforementioned cities as well as Joliette, Quebec, Jackson, Wyo., and Stanford, Calif.
The NYO-USA will perform new music written by Valerie Coleman as well as 'Symphonie Fantastique' by Hector Berlioz, and violin concertos by Samuel Barber and Pyotr Ilyich Tchaikovsky. Throughout the tour, the NYO-USA will be joined by renowned musicians such as violinists Gil Shaham and Hilary Hahn, a three-time grammy award winner.
Ms. Kaminuma is already well-versed in the NYO-USA's set list. She performed Tchaikovsky's violin concerto in D major for her audition, while Barber's violin concerto is her favorite. "I have not played the other pieces, but I'm excited to learn them," she noted.
Ms. Kaminuma also performed the third movement of Beethoven's Symphony No. 9 for her audition as well as the first movement of Mozart's Symphony No. 39, the first movement of Brahm's Symphony No. 2 and the scherzo from Mendelssohn's 'Midsummer Night's Dream.'
While the training with the NYO2 each summer was intense, Ms. Kaminuma is well-prepared for the NYO-USA. She has been a student of renowned instructor Fudeko Takahashi of the New England Conservatory for seven years and has been a member of the Boston Youth Symphony Orchestras since 2013, ascending to the Boston Youth Symphony in 2017.
Ms. Kaminuma also performs with the CHS Orchestra under Kate Comeau.
"Kaitlyn is definitely one of the most talented musicians I've ever worked with," said Ms. Comeau, currently in her 20th year at Chelmsford Schools and 12th year as Director of Orchestras. "She obviously has to be performing at a very high level, which she is. She's an all-state musician, she has an incredible work ethic. She is really one of the most talented kids and so unassuming."
The different ensembles and instructors have made Ms. Kaminuma not only an exceptional musician, but an exceptional listener, particularly while she is playing.
"When you're playing in an orchestra, you have to make sure you're not staying within your own bubble," she explained. "Everyone interprets music differently, so you have to be open-minded and give people room to express themselves. It's a very transferrable skill in the real world."
Ms. Kaminuma is the second in her family selected to the NYO-USA. Her brother, Richard (CHS Class of 2016), was the apprentice conductor of the NYO-USA in 2018.
Though undecided on a college, Ms. Kaminuma expects to attend a university with a strong music program and is interested in majoring in public health. She hopes to minor in music and to play in her college's orchestra.
By the time she sets foot on a college campus, she will already have the label of 'touring musician' on her resume.
"There is a lot to be excited about, just playing with a new group of musicians from all over the country," she added. "When you put a diverse group of musicians together, we're all connected by one thing, the music. It's really cool to explore how we differ through music. We can get to know each other even though we come from different backgrounds and upbringings."
Ms. Kaminuma is the daughter of Albert and Mami Kaminuma.
About Chelmsford Public Schools
The Chelmsford Public School District provides all students with multiple pathways to optimize their own potential for academic excellence, leadership, and social and emotional wellness. The mission of the Chelmsford Public Schools is to educate, engage, prepare, and empower well-rounded and knowledgeable learners to PERSEVERE through challenges, demonstrate RESPECT and INTEGRITY in their words and actions, are DEDICATED to their community, and display EMPATHY as global citizens while discovering and pursuing their full potential.  This PRIDE-driven culture enables all members of the school community to support the growth and development of students.  For more information, please visit www.chelmsfordschools.org.