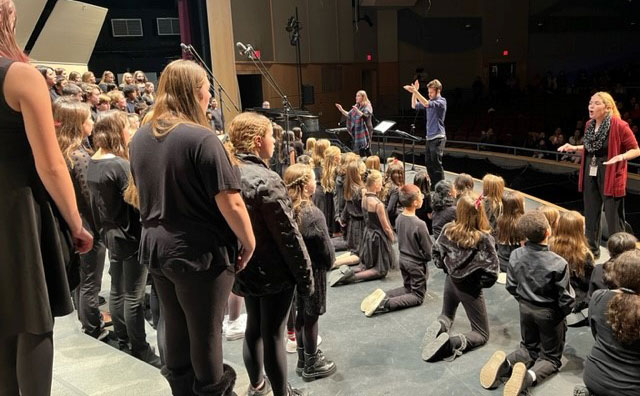 Twenty-Two Chelmsford Students Selected to MMEA All-State Treble Chorus
in News
MMEA All-State Festival Concert slated for Saturday, Apr. 29
CHELMSFORD, MA (Mar. 16, 2023) – Twenty-two students in grades 4-6 at Chelmsford Public Schools were accepted to the Massachusetts Music Educators Association (MMEA) All-State Treble Chorus, the MMEA announced on Friday, Mar. 10.
Chelmsford's 22 students were among 104 selected for the Treble Chorus across the state, marking the largest contingent from any school district. Among those selected were eight from McCarthy Middle School (under the direction of music educator Jodi Richardson) and three from Parker Middle School (Martha Robertson) as well as eight from Center Elementary School (Christopher McGillicuddy) and three from Harrington Elementary School (Matthew Buono).
"This high number of accepted students from Chelmsford demonstrates the high-level of dedication and commitment Chelmsford music teachers provide to their students to ensure that they have the necessary skills to be successful and life-long musicians," said Mr. Buono, who also serves as the MMEA Treble Chorus Manager. "It also demonstrates Chelmsford Public Schools' dedication to recruiting and retaining highly qualified teachers for its students."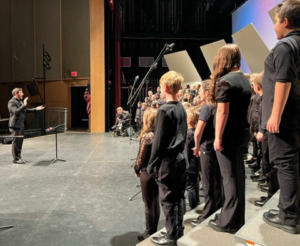 Chelmsford's students will perform at the MMEA All-State Festival Concert Saturday, Apr. 29 (1 p.m.) at the Oak Middle School in Shrewsbury, Mass. The Treble Chorus concert will be conducted by K.C. Conlan, Director of the Hampshire Young People's Chorus in Hampshire, Mass.
Auditions for the MMEA All-State Treble Chorus drew 140 students, who performed a musical scale and a pre-selected song. Rehearsals for the All-State Festival Concert begin Saturday, Apr. 8 at the Oak Middle School (9:30 a.m.-12:30 p.m.).
The honor is the latest of what has been a year of musical honors at Chelmsford Public Schools.
The MMEA All-State Chorus Festival marks its first return since 2020.
Chelmsford's All-State Treble Chorus Students
McCarthy Middle School (Jodi Richardson, teacher)
Henry Brennan, Grade 6
Lyra Cody-Little, Grade 5
Rasm Dadiala, Grade 5
Isla Gubitose, Grade 6
Phillipa Nazziwa, Grade 5
Lyla Reale, Grade 5
Sreekanta Saha, Grade 6
Aditi Yadav, Grade 6
Parker Middle School (Martha Robertson, teacher)
Grace Connolly, Grade 6
Anjali Pillai, Grade 6
Quinn McCabe, Grade 5
Center Elementary School (Christopher McGillicuddy, teacher)
Naisha Giduthuri, Grade 4
Averie Clark, Grade 4
Esther Pessin, Grade 4
Haley Gallagher, Grade 4
Kalia Roberts, Grade 4
Krish Garg, Grade 4
Charlotte Mulholland, Grade 4
Elyse Jean, Grade 4
Harrington Elementary School (Matthew Buono, teacher)
Layla Cassidy, Grade 4
Owen Goodin, Grade 4
Liliana Tellez, Grade 4
About Chelmsford Public Schools
The Chelmsford Public School District provides all students with multiple pathways to optimize their own potential for academic excellence, leadership, and social and emotional wellness. The mission of the Chelmsford Public Schools is to educate, engage, prepare, and empower well-rounded and knowledgeable learners to PERSEVERE through challenges, demonstrate RESPECT and INTEGRITY in their words and actions, are DEDICATED to their community, and display EMPATHY as global citizens while discovering and pursuing their full potential.  This PRIDE-driven culture enables all members of the school community to support the growth and development of students.  For more information, please visit www.chelmsfordschools.org.