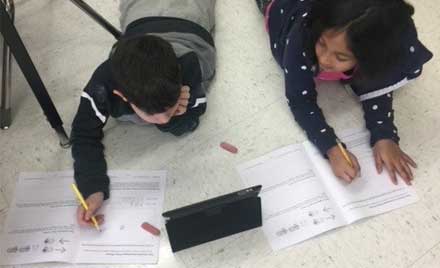 Elementary School Curriculum
Students participate in Technology Lab courses once per week each week in Kindergarten through Grade 4 in courses that address DESE's Digital Learning and Computer Science Standards.
Keyboarding
Students also build keyboarding skills which are important in digital learning for all subjects as well as in standardized testing.
Google Drive, Docs and Sheets
Students learn how to save their files in Google Drive and locate them when they wish. Students learn how to create Google Docs, add content, edit it, format it, and add images. These skills are used in their other classes for their schoolwork. Additionally, fourth-grade students are introduced to Google Sheets spreadsheets using simple formulas.
Coding
Students learn scratch coding and participate in Hour of Code activities from code.org.  Students learn programming throughout their Project Lead the Way computer science modules in all grades K-4.  Through hands-on activities, students learn how computers think and compare that to how people think. Computer Literacy class is an engaging, project-based specialist subject that builds up through Grade 8 providing students with lifelong digital literacy skills.
Online Safety and Cyberbullying
Throughout the school year, our students in the Byam, Center, Harrington and South Row elementary school computer labs continue to learn about online safety and cyberbullying.
Online Safety: Learning Objectives
Students will learn how to use the internet safely and effectively.
Students will understand that people online are not always who they say they are.
Students will learn that they should never give out personal information without a trusted adult's permission, especially if it conveys where they can be found at a particular time.
Students should understand that predators are always present on the internet.
Cyberbullying – Learning Objectives
Students will understand the meaning of cyberbullying.
Students will learn to recognize different forms of cyberbullying.
Students will learn different strategies for dealing with a cyberbully.
Students will learn the importance of enlisting the help of a trusted adult when cyberbullied.
For more information, visit these online safety links: