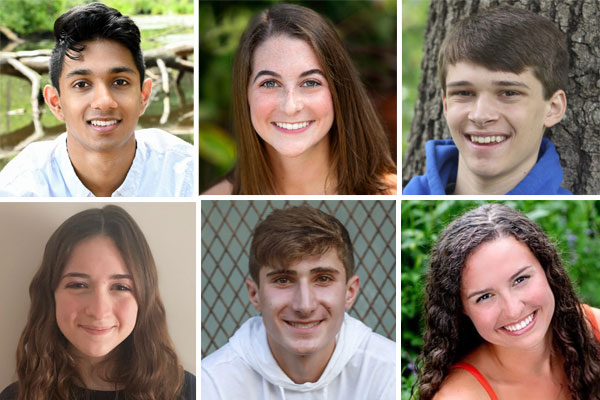 Chelmsford High School Announces March Rotary Students of the Month

CHELMSFORD, MA (May 14, 2021) – Six seniors were honored recently as Chelmsford High School named its Lions Pride Student of the Month recipients for the month of March, announced CHS Principal Stephen Murray.
For the month of March, seniors Rachel LaLumiere and Logan Bruce were named the students of the month for Emerson House while Brynn Murray and Joseph Sturzo were cited for the Hawthorne House, and Jennifer Coleman and Shreyas Chaturvedula for the Whittier House.
Sponsored by the Chelmsford Rotary Club for more than 30 years, the Student of the Month program recognizes outstanding students from each of CHS's three academic houses – Emerson House, Hawthorne House and Whittier House – for their achievements in and out of the classroom.
Rachel LaLumiere
Ms. LaLumiere belongs to three national honor societies – the NHS, as well as the Spanish and Science honor societies – and also serves as a Freshman Peer Mentor and a two-sport captain (volleyball and softball). Additionally, she is a member of the GIVE Club, which provides a wealth of charitable activities for the school and the Chelmsford community; and volunteers her time to the Chelmsford Historical Society Annual Farm Fair and the Chelmsford Girls Softball League.
Ms. LaLumiere has received the award for highest academic achievement on two occasions and has been named to the High Honor Roll all four years at CHS.
Logan Bruce
Mr. Bruce is a member of both the National Honor Society and the National English Honor Society as well as LIME (Leaders In Motion Everywhere), a club which takes an active role in assisting many local causes and charitable initiatives. Additionally, he is a member of the CHS Marching Band as well as The Thursdays, which recently finished among the top eight teams nationwide in the International Championship of High School A Cappella (ICHSA).
Mr. Bruce is also a member of the CHS boys volleyball team and a counselor at the Episcopal Conference Center.
Brynn Murray
Ms. Murray will attend Bridgewater State University this fall where she will major in Elementary Education with a concentration in Special Education. She will be well prepared for her classwork, having excelled in the early childhood development courses at CHS. Additionally, Ms. Murray has been a four-year member of the CHS swim and dive team (she was named captain as a senior) and the Dance Team.
Joseph Sturzo
A High Honor Roll student, Mr. Sturzo is a two-sport athlete (soccer, basketball) who also balances the rigors of challenging coursework such as Pre-Calculus, Psychology, Quantitative Reasoning and Problem Solving and Physics among others. Last fall, he helped the CHS boys soccer team to an undefeated season (7-0-1) and a ranking of No. 8 in the final MaxPreps Massachusetts poll, and is currently enjoying his senior season with the boys volleyball team.
Mr. Sturzo will attend Framingham State in the Fall of 2021 where he will major in Business and Information Technology and play on the men's soccer team.
Jennifer Coleman
In addition to the National Honor Society, Ms. Coleman is an inductee of three other honor societies, including the National English Honor Society, National Spanish Honor Society and National Science Honor Society. She is very active among CHS's community service efforts as a member of LIME, GIVE and the CHS Mentor Program, and is also a four-year member of the spring track and field team.
Prior to the Covid-19 outbreak, Ms. Coleman was a weekly volunteer at the Chelmsford Public Library.
Shreyas Chaturvedula
While handing such coursework such as AP Calculus, AP Environmental Science, AP Psychology and Honors Physics among others, Mr. Chaturvedula is a High Honor Roll student and a member of both the National Honor Society (for which he serves as Publicity Chair) and the National Science Honor Society.
Additionally, Mr. Chaturvedula is an All-Merrimack Valley Conference sprinter in both indoor and outdoor track and field and serves as the Co-President of the Interact Club. He is also a member of DECA, and has volunteered his time outside of school with the Chelmsford Public Library and Chelmsford Pop Warner Football.
Though undecided on a college, Mr. Chaturvedula plans to pursue biomedical engineering.
About Chelmsford Public Schools
The Chelmsford Public School District provides all students with multiple pathways to optimize their own potential for academic excellence, leadership, and social and emotional wellness. The mission of the Chelmsford Public Schools is to educate, engage, prepare, and empower well-rounded and knowledgeable learners to PERSEVERE through challenges, demonstrate RESPECT and INTEGRITY in their words and actions, are DEDICATED to their community, and display EMPATHY as global citizens while discovering and pursuing their full potential.  This PRIDE-driven culture enables all members of the school community to support the growth and development of students.  For more information, please visit www.chelmsford.k12.ma.us.