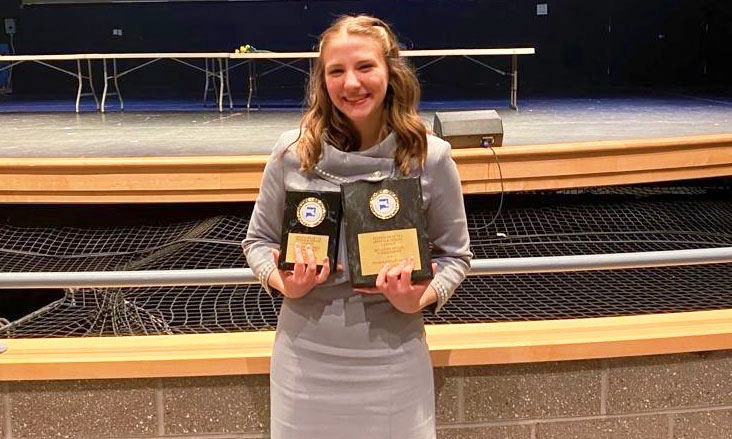 National Speech and Debate Finals Appearance Has CHS Rising Junior Sophia Roy Thinking Big for 2023-24
in News
Ms. Roy impresses at NSDA National Final June 11-17
CHELMSFORD (July 11, 2023) – Competitive fire isn't limited to sport. Chelmsford High School rising junior Sophia Roy brings that same desire to competitive speaking.
"Sophia has fallen in love with speech," said Peter Zopes, long-time social sciences educator and Speech and Debate Club advisor at CHS. "I tell each student to take (speech and debate) to whatever level they want. She is becoming an avid student of it. She's been studying and performing."
Ms. Roy enjoyed a breakout year in competitive speech and debate as a sophomore. Her latest highlight came at the National Speech and Debate Association (NSDA) National Final in Phoenix, at which she advanced through six rounds in the Informative Speaking division before falling short in the Octo Final.
Getting through six rounds to the Octo Final is a significant feat for a sophomore, said Mr. Zopes. Ms. Roy, however, felt she did enough to go further.
"I felt my speech was at the finalist level," said Ms. Roy, whose speech, 'The Organ Shortage Crisis,' identified the crisis and the need for more organ donors. "I knew I did everything I could. I'm just glad that I went because I know now what I can improve upon for next year. I know I did my best, but sometimes you don't have the best luck."
In Informative Speaking, competitors are not allowed to give opinions or attempt to persuade their audience of any stance.
Scoring is subjective, as Ms. Roy discovered early in Phoenix. With two judges in each of the first six rounds (three judges thereafter), her first-round delivery was judged first in her group by one judge yet fourth by the other. Similarly, she was judged second and fourth in the second round before cruising through the third and fourth rounds at second-second and second-first.
Ms. Roy's run ended in the Octo Final when her speech was judged fifth-sixth-sixth. "I went first," she noted. "All of the other speeches were funny, but not mine. It's the luck of the judge. It's very subjective. I don't think anyone received straight 1s."
Ms. Roy is already in preparation for next year. She is currently attending the Institute for Speech and Debate, a two-week informative oratory program at the University of North Carolina Chapel Hill, where she will hone her skills in both Informative Speaking and Original Oratory.
Named captain for the 2023-24 season, Ms. Roy doesn't want to be the sole CHS student to travel to the NSDA Final. "After going to nationals, I'm immersing myself in the (Informative Speaking) community," she said. "I'm also trying to get more people from our team to go to national tournaments."
Ms. Roy's appearance at the NSDA National Final capped an impressive season. She qualified for the NSDA Finals after placing third in Informative Speaking at the New England District Speech and Debate Tournament at Catholic Memorial High School Feb. 3-4. She won her group in the first and third rounds and finished runner-up in the second round.
In preparation for the NSDA Final, Ms. Roy won the Informative Speaking category and placed third in Declamation Speaking at the Massachusetts Speech and Debate League (MSDL) Final Apr. 1.
She, along with several of her teammates, will open the 2023-24 speech and debate season at the Yale Invitational Friday through Sunday, Sept. 20-22.
Speech and Debate is one of several CHS organizations in which Ms. Roy holds a leadership role. She is also president of the TedEd Club and co-president of the award-winning a cappella group The Thursdays. Additionally, she serves as the treasurer of the CHS Theatre Guild, coaches youth swimming and is a member of the Science Club.
Ms. Roy is the daughter of Magdalena Roy.
About Chelmsford Public Schools
The Chelmsford Public School District provides all students with multiple pathways to optimize their own potential for academic excellence, leadership, and social and emotional wellness. The mission of the Chelmsford Public Schools is to educate, engage, prepare, and empower well-rounded and knowledgeable learners to PERSEVERE through challenges, demonstrate RESPECT and INTEGRITY in their words and actions, are DEDICATED to their community, and display EMPATHY as global citizens while discovering and pursuing their full potential. This PRIDE-driven culture enables all members of the school community to support the growth and development of students. For more information, please visit www.chelmsfordschools.org.