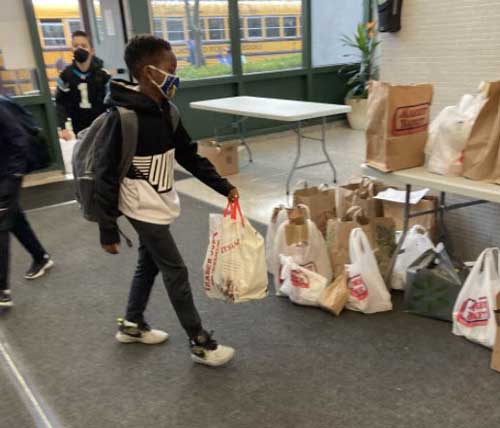 Project 300 Food Drive Underway Monday-Friday at McCarthy Middle School
in News
CHELMSFORD, MA (Nov. 16, 2020) – Tom Gallagher, a mathematics teacher at the McCarthy Middle School, was recently watching a news item about the Salvation Army Store and Donation Center in nearby Medford.
"It was about how this time of year, the Medford Salvation Army feeds about 60 families," he said. "Right now they're feeding about 600. And that's just in Medford. I'm sure this is the case all over right now."
Mr. Gallagher is in his 14th year volunteering with the Project 300 food drive, in its 44th year at Chelmsford Public Schools. The non-perishable food drive opened Monday, Nov. 16 and runs through Friday, Nov. 20 to benefit families in need throughout the Merrimack Valley.
Non-perishable food items can be dropped off in bins located at the front and rear of the McCarthy Middle School at 240 North Road. Each day, the Salvation Army of Lowell retrieves the non-perishables and distributes them to families in need throughout the Merrimack Valley.
On Thursday, Nov. 19, Brickhouse Pizza in Chelmsford Center and North Chelmsford will donate 50 percent of proceeds from deliveries and dining in (for food only) when customers mention 'Project 300' upon ordering.
Gallagher said the demand is greater than ever. It is also Project 300's most challenging year, all due to the Covid-19 pandemic.
In previous years, Project 300 has averaged about 30,000 cans per year, mostly from students bringing them each day. There were competitions between classrooms, grade levels and individual students for the largest contributions, with prizes awarded to each. This year's hybrid model of attendance, however, has rendered such incentives difficult.
"This year we've had to approach it differently," Mr. Gallagher said. "We'd like to collect at least 15,000 cans."