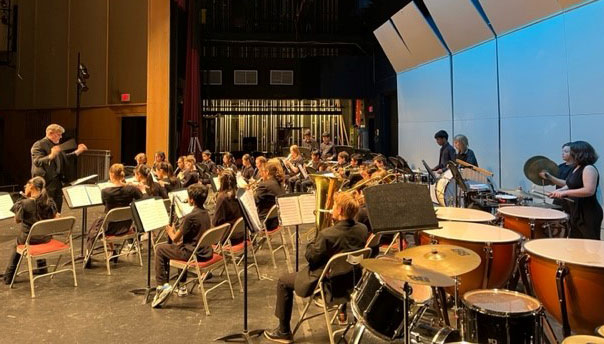 WATCH: Grade 5 Fine & Performing Arts Course Descriptions
Entering Grade 5, your child can decide which arts block class they may be interested in participating next fall. To assist them and you with this process, the below information will provide you with information regarding our Grade 5 Fine and Performing Arts Programs.
In Grade 5 at Parker, students select either performance music (Band, Chorus, or Orchestra) for a full year, or visual art for half of the year and music concepts and cultures (a general music class building upon skills from grade 4 general music class) for half of the year. These classes are all offered during the school day. Students who take performance music who would also like to explore the grade-level art curriculum are encouraged to join the Art Club, which is an after-school club taught by the school's art teachers specifically designed for students in Band, Chorus, or Orchestra.
The links below include introduction and demonstration videos that will allow students to see and hear what instruments are available in Band and Orchestra classes, and offer them an opportunity to virtually "meet" the grade 5 music and art teachers.
If your child selects band or orchestra, they should plan to come to school in the fall with an instrument. Please see the following pages regarding options for instrument rentals.
Thank you for your attention;. I hope this will help you and your child make their Fine and Performing Arts course selection for Grade 5.  For more information, contact:
Dr. Christy Whittlesey, PreK-12 Fine and Performing Arts Department Coordinator