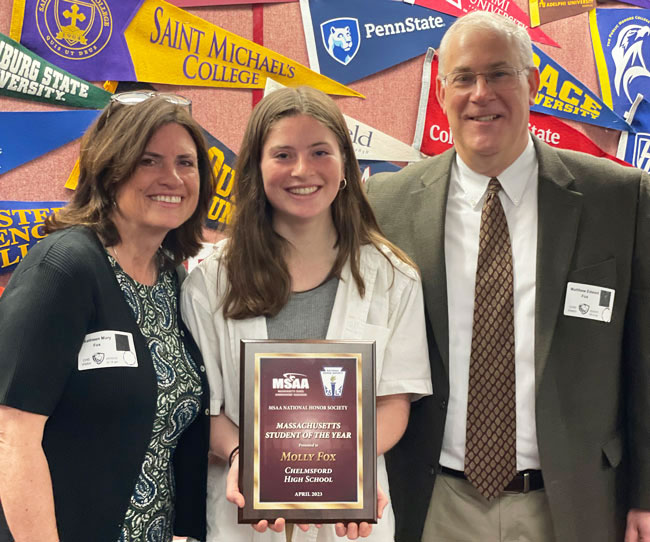 CHS Senior Molly Fox Named MSAA National Honor Society 2022-23 Student of the Year
in News
Ms. Fox receives $1,000 scholarship; will attend the University of Vermont this fall
CHELMSFORD, MA (May 11, 2023) – Molly Fox, a senior at Chelmsford High School, was named the 2022-23 Massachusetts School Administrators Association (MSAA) National Honor Society Student of the Year, the MSAA announced May 3 in a surprise ceremony at the CHS Career and College Readiness Center.
The MSAA Student of the Year honors one student annually who has met the highest standards in the areas of scholarship, leadership, character, and service. Ms. Fox, who will attend the University of Vermont this fall, received a $1,000 scholarship.
The ceremony was attended by Fox's parents, Kathy and Matt Fox, along with Massachusetts State Representative Simon Cataldo, CHS Principal Stephen Murray and Dean Joshua Blagg, MSAA Assistant Director John Quinn, as well as several of Ms. Fox's teachers and adviser.
"Molly is perhaps one of the most talented and well-rounded students who I have had the pleasure of having in school," said Mr. Murray. "She excels in almost every aspect of school both inside and outside of the classroom.  What sets Molly apart from her peers is that she always puts her peers and the community ahead of herself. She loves volunteering and her efforts have impacted our community and school programs in unimaginable ways. We will miss Molly when she graduates."
"We are thrilled for Molly and grateful to the MSAA for this unprecedented honor," said Chelmsford Public Schools Superintendent Jay Lang. "Molly exemplifies the five 'PRIDE' pillars of Chelmsford Schools. Her commitment as a student leader, community servant and athlete speaks for itself. We are looking forward to watching Molly continue to honor Chelmsford at the University of Vermont the next four years."
"Molly's performance as a student athlete, and her service as a volunteer in the community, are exemplary," said Mr. Cataldo, who was on hand for the ceremony. "I was proud to work with Molly on my campaign last year. She continually impressed me with her collaborative spirit and professionalism. Her receipt of this recognition is beyond well-deserved."
"In learning about Molly's list of accomplishments and reading her letter of support, she indeed epitomizes the definition of a well-rounded individual and the four pillars of National Honor Society which are scholarship, service, leadership and character," said Mr. Quinn of the MSAA.
An exemplary student enrolled in numerous AP courses, Ms. Fox is a three-sport athlete competing in varsity soccer (for which she serves as captain), lacrosse, and track and field as well as a member of the CHS marching and jazz bands.
Off the athletic fields, she is the president of the GIVE (Get Involved Volunteer Everywhere) club, president and co-founder of the Round Table Club, vice president of the CHS chapter of the National Honor Society and has served as a class representative all four years.
A board member with the CHS Mentorship program, Ms. Fox is a coach and mentor with the TOPS Soccer program that provides support and opportunities for children with disabilities. She has also volunteered at the Harvard Homeless Shelter with the GIVE club specializing in food preparation.
Ms. Fox will study political science and computer science on a pre-law track next year at UVM.
About Chelmsford Public Schools
The Chelmsford Public School District provides all students with multiple pathways to optimize their own potential for academic excellence, leadership, and social and emotional wellness. The mission of the Chelmsford Public Schools is to educate, engage, prepare, and empower well-rounded and knowledgeable learners to PERSEVERE through challenges, demonstrate RESPECT and INTEGRITY in their words and actions, are DEDICATED to their community, and display EMPATHY as global citizens while discovering and pursuing their full potential.  This PRIDE-driven culture enables all members of the school community to support the growth and development of students.  For more information, please visit www.chelmsfordschools.org.