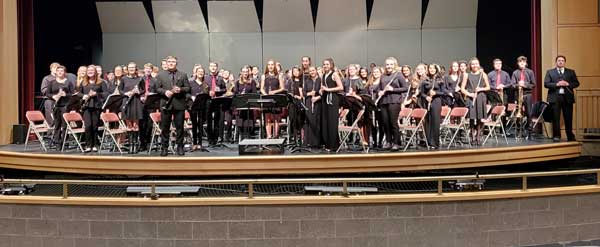 MMEA Selects 24 CHS Student-Musicians to Northeast Senior District Music Ensemble
in News
CHELMSFORD, MA (Nov. 30, 2020) – Twenty-four student-musicians from Chelmsford High School – representing band, orchestra and chorus – qualified for the Massachusetts Music Educators Association (MMEA) Northeastern Senior District Music Ensemble, the MMEA announced last week.
Seventeen of CHS's 24 students received All-State recommendation and move on to audition for All-State honors, to be submitted by Jan. 23 and announced in February.
Five CHS students received the highest possible score for their instrument or voice part: Ethan DeHaan (alto saxophone), Nick LaCava (snare drum), Ethan Meltzer (string bass), Alex Moore (trumpet) and Keya Upadhyay (flute).
"I think it speaks to the strengths of the program we have," said Matt Sexauer, Director of CHS Bands. "The fact that we had so many students audition and in turn have so many students accepted, in spite of the overall global situation, it shows how important this kind of experience is and how dedicated our students can be."
The MMEA Northeast District Executive Board cancelled in-person events for the ​2020-21 school year due to the ongoing Covid-19 pandemic. Instead, auditions were held virtually to provide all participants with the audition experience and individualized feedback from experts.
The CHS Chorus Director is Amanda Roeder while the CHS Orchestra Director is Kate Comeau. Dr. Christy Whittlesey is the PreK-12 Fine and Performing Arts Department Coordinator at CPS.
The Chelmsford Friends of Music supported the students' participation by covering the student musician audition fees.
Recipients of the MMEA Northeastern Senior District Music Ensemble included:
Student, Distinction, Instrument
*Jacquelyn Brennan-Barbeau, Orchestra, String bass
*#Sarah Buliszak, Band, Flute
Holden Crouthamel, Band, Trombone
*#EthanDeHaan, Band, Alto saxophone
*Megan Dunn, Chorus
Jamie Garber, Band, Alto saxophone
Mia Guaetta, Chorus
*Lily Hoyt, Orchestra, Cello
*Amelia Hughes, Band, Trumpet
*^#Nick LaCava, Band/Orchestra, Snare drum
Cynthia Lu, Orchestra, Violin
Sean McNulty, Band, Euphonium
*#Ethan Meltzer, Orchestra, String bass
*Philip Miu, Band, Snare drum
*+#Alex Moore, Band/Jazz Ensemble, Trumpet
*Ryan Moore, Band, Bass clarinet
*^Kyle Pinto, Band/Orchestra, Trombone
*+Bennett Prees, Band/Jazz Ensemble, Trombone
*Sarah Roch, Band, Mallets
*+Daniel Schiefen, Band/Jazz Ensembl, Trombone
Ryan Spooner, Band, Trombone
*Jack Tallent, Band, Tuba
Frank Tsui, Orchestra, Violin
*^#Keya Upadhyay, Band/Orchestra, Flute
#Denotes top score in instrument or voice part
*Denotes All-State recommendation
+Denotes jazz ensemble
^Denotes band student selected to perform with orchestra