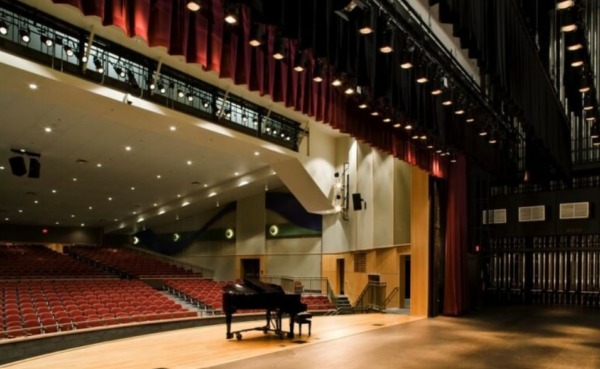 Live Theater Returns: CHS Theatre Guild to Host Two Live Plays Thursday Through Saturday

Original works 'The King Is Dead,' and 'The Last Person On Earth' presented at the CHS Carl J. Rondina Performing Arts Center
CHELMSFORD, MA (May 17, 2021) – The Chelmsford High School Theatre Guild is announcing its return to live performances with two original productions Thursday, Friday and Saturday evenings, May 20-22, for a limited audience at the CHS Carl J. Rondina Performing Arts Center.
The King Is Dead, a 30-minute play written by CHS senior Hannah Nettikadan, will be performed at 7:00 while the production of The Last Person On Earth, written by senior Allison Dorsey and local playwright Eloise Hoffman, will take the stage soon after.
Attendance is limited to 100 people per performance. Tickets are $10 per person and can be purchased by any cast member or at the PAC Black Box Theatre. A limited number of tickets will be sold at the door each night. Checks are accepted and payable to the Chelmsford High School Theatre Guild. Attendees are asked to include name, number of tickets and date of the performance and can retrieve their tickets at the will call window the night of the show.
Masks must be worn at all times during the productions. Attendees are reminded to refrain from attending if experiencing any Covid-19-related symptoms.
The King Is Dead and The Last Person On Earth are the first live theater productions at CHS since March of 2020, when the CHS Theatre Guild staged the production of An Dreolin, an original play by Ms. Hoffman, for the Massachusetts Educational Theater Guild (METG) Festival. The production advanced past the preliminary round, but the Festival was cancelled soon after due to Covid-19.
"At the first rehearsal we had in the PAC, I can't describe the joy the kids had," said Lauren Cochran, CHS Theater Director. "They just kept talking about how glad they were to be on stage."
The King Is Dead is a comedy which follows a small medieval town and its attempt to save its kingdom from the chaos caused by the death of its king and the early stages of a deadly plague.
"The idea for The King Is Dead comes from my love of medieval comedies," said Ms. Nettikadan. "I think they're severely underrated and when written well, are generally fantastic. Being back onstage has been absolutely amazing. For most of this year I haven't been able to do any actual theatre. It's been great, and the cast and crew are all so lovely to work with."
The Last Person On Earth depicts a group of strangers who believe they are the last remains of humankind, but receive a message urging them to search for others. The idea came to Ms. Dorsey in late February as indoor gathering restrictions showed signs of loosening. She, along with seniors Skyla Garrigan (stage manager) and Pierce Magnant (a cast member), presented the idea to Ms. Cochran along with a plan for safe viewing.
"We thought this would be a great way of bringing (live theater) back together and to do it safely," Ms. Dorsey said. "I wrote the show in about a week and a half and Ms. Hoffman wrote a version and this is what we've come up with. It's been over the last three weeks that it's come together."
While live theater was absent since March 2020, Ms. Cochran and CHS Theatre Guild members spent most of the school year working on a feature length film, The Mystery at Pendleton Manor, which is currently in post-production. An outdoor viewing of the film is expected to take place in mid-June.
About Chelmsford Public Schools
The Chelmsford Public School District provides all students with multiple pathways to optimize their own potential for academic excellence, leadership, and social and emotional wellness. The mission of the Chelmsford Public Schools is to educate, engage, prepare, and empower well-rounded and knowledgeable learners to PERSEVERE through challenges, demonstrate RESPECT and INTEGRITY in their words and actions, are DEDICATED to their community, and display EMPATHY as global citizens while discovering and pursuing their full potential.  This PRIDE-driven culture enables all members of the school community to support the growth and development of students.  For more information, please visit www.chelmsford.k12.ma.us.