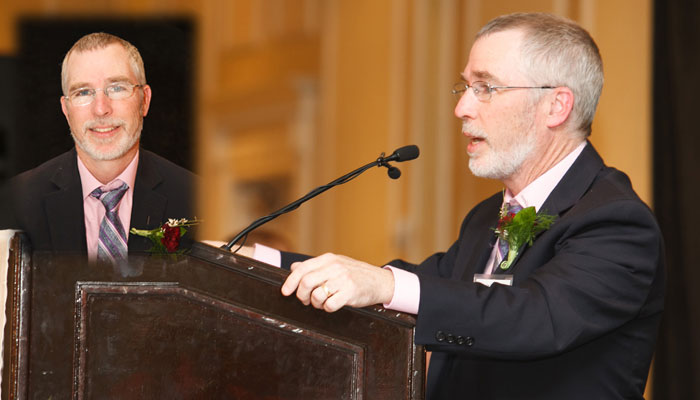 Dennis King '83 to Receive Lifetime Service Award from Massachusetts Chapter of National Wrestling Hall of Fame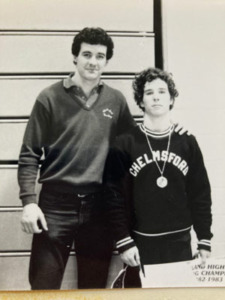 Ceremony slated for Saturday, Nov. 13 at Gillette Stadium
CHELMSFORD, MA (Nov. 4, 2021) – Dennis King, a graduate of the Chelmsford High School Class of 1983 and a member of the Chelmsford School Board, will receive the Lifetime Service Award from the Massachusetts chapter of the National Wrestling Hall of Fame Saturday, Nov. 13 (3:30 p.m.) at Gillette Stadium.
Inducted into the MA-NWHOF in 2015, Mr. King is one of six recipients of the MA-NWHOF Lifetime Service Award and will join Dr. Robert Fitzgerald, Ed Hanley, Marc Loranger, Heb Evans (posthumously) and Rodney Smith.
"Dennis took to the sport right away," said former CHS wrestling coach Bruce Rich '73, also a MA-NWHOF inductee who compiled more than 650 wins and seven state championships over 40 years. "He was very successful and a great leader. He's been a terrific role model for many young people over the years."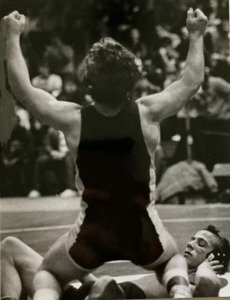 To purchase tickets to the ceremony, click here or contact MA-NWHOF Treasurer Rene Canezin at (617) 721-9697 or NWHOF.MA@gmail.com.
Mr. King was a standout athlete in both football and wrestling at CHS, the latter in which he captured conference, MIAA sectional, state and New England championships as a senior. Equally impressive, he graduated among the top 20 students in a class of 650. Upon graduation, he attended Boston University where he majored in biology and was a four-year member and two-year captain of the Terrier wrestling team under MA-NWHOF coach Carl Adams.
Mr. King earned his master's degree in education from the University of Lowell and simultaneously served as an assistant coach with the CHS wrestling team alongside Mr. Rich. Upon completion, he accepted a biology teaching role at Methuen H.S., and the head wrestling coach post at Central Catholic H.S., where he coached for 25 years.
During his tenure, Mr. King led the Raiders to eight Merrimack Valley Conference titles, nine MIAA North Sectional championships, three state crowns and two Coaches Association Individual State Tournament crowns. Along the way, he coached 62 North Sectional champions, 39 state champions, 16 All-State champions and seven New England champions.
Amidst coaching and teaching, Mr. King served on the executive board of the Massachusetts Wrestling Coaches Association for 18 years. He also found the time to cofound the field hockey program at CCHS, as well as coach in several youth leagues in Chelmsford including softball, soccer, field hockey and wrestling.
Along with the Massachusetts chapter of the NWHOF, Mr. King is a member of the Chelmsford H.S. Alumni Association Hall of Fame (2017) and Central Catholic H.S. Hall of Fame (2015).
Mr. King continues to teach at Central Catholic H.S., and has served as the Chair of the Science Department for 20 years. He lives in Chelmsford with his wife, Dana. They have raised three grown children: Maggie, Abbie and D.J.
About Chelmsford Public Schools
The Chelmsford Public School District provides all students with multiple pathways to optimize their own potential for academic excellence, leadership, and social and emotional wellness. The mission of the Chelmsford Public Schools is to educate, engage, prepare, and empower well-rounded and knowledgeable learners to PERSEVERE through challenges, demonstrate RESPECT and INTEGRITY in their words and actions, are DEDICATED to their community, and display EMPATHY as global citizens while discovering and pursuing their full potential.  This PRIDE-driven culture enables all members of the school community to support the growth and development of students.  For more information, please visit www.chelmsfordschools.org.