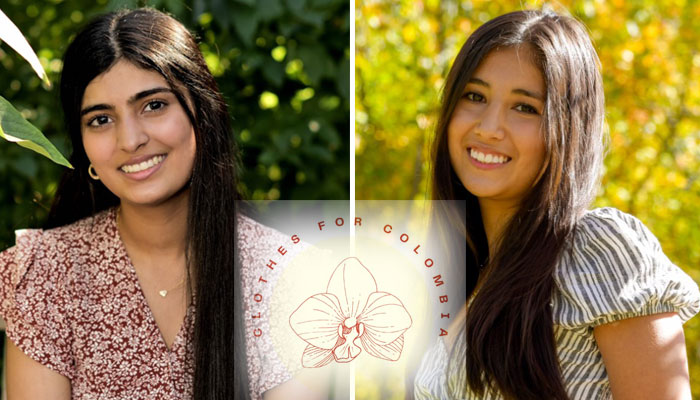 CHS Seniors Launch 'Clothes for Colombia' to Benefit Bucaramanga Region
in News
Seniors Isabell Madrid, Haniya Rizwan collecting warm weather, gently used clothing donations
CHELMSFORD, MA (Oct. 28, 2022) – Every year when Isabella Madrid's family visits the city of Bucaramanga, Colombia, they cram a suitcase full of gently worn clothing, shoes, and toys. For years, Ms. Madrid's maternal grandmother has been collecting and donating clothing and shoes to families in nearby villages.
A senior at Chelmsford High School, Ms. Madrid would accompany her grandmother to the surrounding villages to distribute the clothes. She didn't grow up in Bucaramanga, but she feels a deep connection to the city that is home to her extended family. The Bucaramanga area has its share of poverty.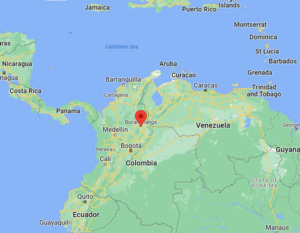 It is only fitting that she has a friendship and partnership with senior Haniya Rizwan, who, coincidentally, has long collected shoes. Over the summer, the two got talking and decided to join forces for the people in Bucaramanga who could use a few more clothes.
Clothes for Colombia may be a two-person operation, but its contributions will outfit many.
"Especially with Covid, people are in need now more than ever, so we decided to mutually start something," said Ms. Rizwan. "First it was just us contributing what we had, and then friends and family. Then we got people at Lowell General involved and they were contributing too. So it's kind of like a community effort."
While many clothing drives in the Northeast emphasize the need for winter clothing, Colombia only knows one season. Located 500 miles north of the equator, the temperature is consistently in the 80s and never below 65. Thus, the clothes Ms. Madrid and Ms. Rizwan collect range from gently used light sweaters, blouses and jeans to t-shirts and shorts.
"It's primarily summer clothing," Ms. Madrid noted.
It is not only clothing that Clothes for Colombia will accept. Ms. Madrid and Ms. Rizwan are also welcoming monetary donations to offset rising shipping costs due to the increase in fuel. "I think it's been probably our biggest struggle, with international shipping costs," Ms. Madrid said. "I know those costs have gone up a lot because of Covid. Before it was a lot easier for us to send clothes over, when my family sent boxes over of our own."
Within the next week, Ms. Madrid and Ms. Rizwan will place donation boxes at the high school and the Chelmsford Public Library where people can leave donations.
Collecting clothing for folks in need is a fraction of Ms. Rizwan and Ms. Madrid's involvement as CHS students. Ms. Madrid is a three-sport athlete (soccer, indoor and outdoor track and field) and is also a member of the Red Cross Club. She earned induction into both the National Honor Society and National Science Honor Society.
Also a NHS inductee, Ms. Rizwan serves on the Executive Leadership Board of the National English Honor Society and was the recipient of Tulane University Book Award, presented to students with outstanding leadership and scholarship. Additionally, she is a member of DECA, the Mindfulness Matters Club and works as a surgical day care intern at Lowell General Hospital. Undecided on a college, she plans to pursue a career in the medical field.
"I feel proud that I can give back to the community that I didn't grow up in, but it's part of me," said Ms. Madrid.
Donations can be made to Clothes for Colombia three ways:
About Chelmsford Public Schools
The Chelmsford Public School District provides all students with multiple pathways to optimize their own potential for academic excellence, leadership, and social and emotional wellness. The mission of the Chelmsford Public Schools is to educate, engage, prepare, and empower well-rounded and knowledgeable learners to PERSEVERE through challenges, demonstrate RESPECT and INTEGRITY in their words and actions, are DEDICATED to their community, and display EMPATHY as global citizens while discovering and pursuing their full potential. This PRIDE-driven culture enables all members of the school community to support the growth and development of students. For more information, please visit www.chelmsfordschools.org.