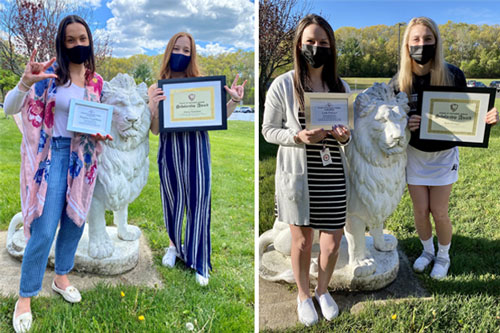 CHS Seniors Krueger, Hamilton Recipients of Council of Chelmsford Schools Scholarships
in News
CHELMSFORD, MA (May 19, 2021) – Seniors Kate Krueger and Mary Hamilton were named the 2021 recipients of Council of Chelmsford Schools (CoCS) Scholarships, the CoCS Scholarship Committee Announced Wednesday night at its quarterly meeting.
The CoCS Scholarships are presented to two seniors who best describe in essay form which Chelmsford Public Schools staff member has been the greatest influence on their lives. The essays are judged by the CoCS Scholarship Committee, and the recipients are invited to the CoCS Spring Meeting to read their essays aloud to their mentors.
Both Ms. Krueger and Ms. Hamilton will receive a $1,000 scholarship.
Ms. Krueger's essay lauded the impact of CHS Girls' Soccer Coach (and Harrington School third grade teacher) Leah Potcner, and her emphasis of positivity even in the most trying times. Ms. Krueger particularly noted Ms. Potcner's investment in her players year-round, not just in-season, and her frequent inquiries to her players regarding their mental health.
"It's definitely a huge honor to receive this," said Ms. Krueger, also a standout on the girls' lacrosse team. "She is the most positive person I've ever met. She lives by her motto of finding small successes every day. I was a captain, and she always had talks with the captains about being the best leaders we can possibly be. She's responsible for me being the leader that I am today."
Ms. Krueger will attend Iona College this fall and plans to study pre-medicine and health sciences. A five-time All-Merrimack Valley Conference standout in soccer and lacrosse, she will also play lacrosse for the Gaels.
Ms. Hamilton, who will study elementary education at Assumption College this fall, commended the influence of first-year American Sign Language teacher Meghan Fitzgibbons, a 2016 graduate of CHS and a 2020 alumna of Assumption, in her essay. Ms. Hamilton admitted she had not planned on pursuing a career in education entering her senior year, but Ms. Fitzgibbons' ASL class changed that.
"Because of her age, she can really relate to her students," said Ms. Hamilton. "She made her classroom environment very inclusive. She wants you to understand not only how to sign, but the deaf community culture. She is an incredible motivator, and I find that inspirational just because of the year she had and how she had to start her teaching career in such a unique and unprecedented year.
"I had always thought about (teaching)," Ms. Hamilton added. "It was always something I thought I could be good at. Then I met her and decided this is where I am meant to be. In teaching elementary, I hope to also teach students some basic signs so that they can communicate with the deaf community too."
Ms. Hamilton will enroll in the five-year dual degree program at Assumption, where she will earn her master's degree in special education. She also plans to minor in either Communication and Science Disorders or ASL.
Ms. Potcner and Ms. Fitzgibbons will each receive a check for $100.
About the Council of Chelmsford Schools
The Council of Chelmsford Schools is a 501(c) organization composed of all of the PTOs in the Chelmsford School District. The mission is to support the Chelmsford Public Schools by facilitating communication among parents, parent groups and representatives of the District; to promote the educational well-being of students in the District; and to provide educational opportunities to the parents, parent groups, staff, administration, and community members.
About Chelmsford Public Schools
The Chelmsford Public School District provides all students with multiple pathways to optimize their own potential for academic excellence, leadership, and social and emotional wellness. The mission of the Chelmsford Public Schools is to educate, engage, prepare, and empower well-rounded and knowledgeable learners to PERSEVERE through challenges, demonstrate RESPECT and INTEGRITY in their words and actions, are DEDICATED to their community, and display EMPATHY as global citizens while discovering and pursuing their full potential.  This PRIDE-driven culture enables all members of the school community to support the growth and development of students.  For more information, please visit www.chelmsford.k12.ma.us.