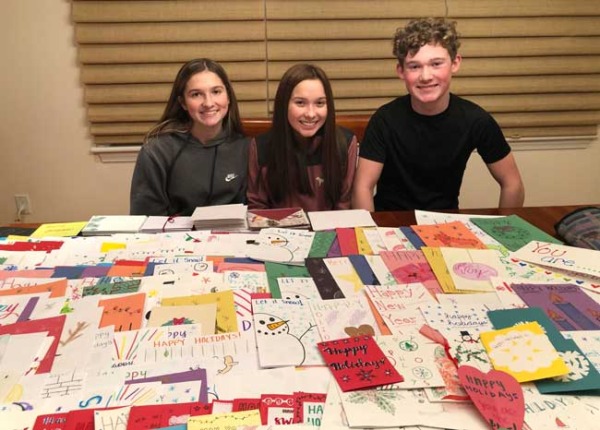 CHS Senior MacKenzie Stacy is Sending Good Vibes to Those Who Need Them Most
in News
Senior MacKenzie Stacy has a message for those currently in care facilities separated from their loved ones over the holidays. Actually, she has more than 400 messages.
On very little notice, the Chelmsford High School senior is trying to brighten the coming days and weeks of as many people as possible – hospice patients, folks in long-term care and those in assisted living – by collecting and delivering greeting cards with positive messages, as many as she can.
"It was very last minute," Ms. Stacy said Thursday. "Hopefully, we'll get at least 200, but we do want a little more."
Forgive Ms. Stacy's modest prediction. In a matter of days, she collected 417 cards and notes, each with a unique message expressing heartfelt support and good wishes over the holidays.
The impetus came at the request of a family friend – a volunteer at Compassus, a hospice care facility in North Andover – to see if Ms. Stacy would create a few cards and notes, even handmade, to be given to those who need them most.
Within 24 hours, Ms. Stacy enlisted the help of her brother Bryce (a junior at CHS) and sister Brooke (a freshman, who made 50 homemade cards by Thursday evening), as well as the Give Club (of which Bryce is a member). She also splashed it on her social media networks and received 75 from her friends and another 40 from Parker Middle School students.
Keeping Covid-19 safety in mind, the cards and notes were dropped off at the Whittier House office, or left in home mailboxes on Friday, which Ms. Stacy retrieved over the weekend to be delivered on Monday. Though covid-19 restrictions prevent her from making personal deliveries, she could imagine her recipients' reactions.
"When we were asked, we just wanted to bring some joy to those who can't see their families," she said. "We just want to make them happy and put a smile on their face."
The messages were simple. Some wrote 'Happy Holidays,' 'Merry Christmas,' and 'Thinking of you at this difficult time.' Others created cards and notes with elaborate illustrations. However, it is the very gesture – letting a person in hospice care know that someone is thinking of them, pulling for them – that is most profound.
"MacKenzie is a super kid," said John MacIsaac, Dean of the Whittier House. "She is such a thoughtful, caring and polite person who always puts others first. In response to me reaching out to the staff on her behalf for the cards, one of her previous teachers said it best, 'MacKenzie is a good egg.' We all can learn from students like this."
The outpouring led to a nice problem: an overflow of cards and messages. In addition to the good folks at Compassus, Ms. Stacy set aside several for a family friend who will spend the holidays in care, away from family. She also provided many to the Power of Flowers Project of Tewksbury, which recycles bouquets of flowers and delivers them to care facilities and veterans homes.
This week those very folks will receive cards with their deliveries.