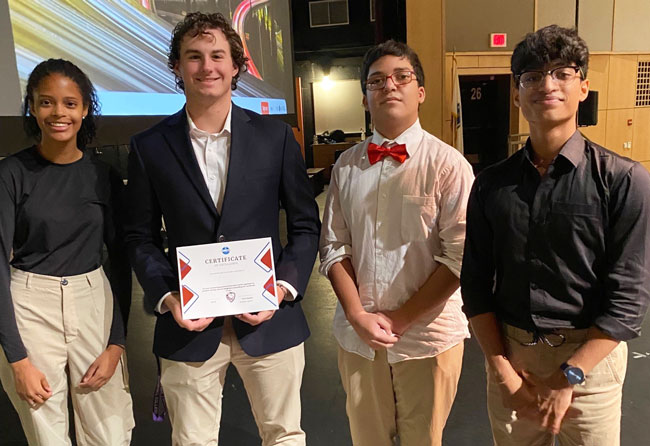 The HCKY Stick Wins CHS DifferenceMaker Idea Challenge
in News
Foursome behind The HCKY Stick advances to UMass Lowell DifferenceMaker Idea Challenge Nov. 30
CHELMSFORD, MA (Nov. 3, 2022) – The HCKY Stick is a street hockey stick that is inexpensive, collapsible, durable, easily stored and ideal for schools and recreational facilities.
The HCKY Stick, the product of seniors Braydon Gray, Ayush Mitra, sophomore Catherine West and freshman Gabriel Silva, was the winning product idea at the Chelmsford High School DifferenceMaker Idea Challenge Tuesday morning at the Carl J. Rondina Performing Arts Center.
The HCKY Stick foursome, which received the award for Best Overall Group, will advance to the fourth annual DifferenceMaker High School Idea Challenge at UMass Lowell Wednesday, Nov. 30 at the UML Saab Center from 9 a.m.-1 p.m.
Rock 'n Golf, which presented a golf bag with a built-in speaker for music, received the award for Best Presentation while Tempus, which is developing an organizational app, was cited for Best Slide Deck.
The DifferenceMaker Challenge is part of the curriculum of CHS's Entrepreneurship class taught by 25-year Business Education educator Tom Sousa. The Challenge tasks students to identify a real-world problem, recognize the opportunities presented by the problem, and identify a solution.
The HCKY Stick group identified two problems that its product solves. Firstly, that floor hockey sticks used by schools are often tattered, defective and not easily stored in school physical education facilities (floor hockey is part of the physical education curriculum at CHS).
Additionally, the foursome cited the growth of hockey: There are 30 million hockey players worldwide in 2022 opposed to 1.64 million in 2013. The figure underscores the need for quality equipment.
"Overall, the judges felt their presentation was put together the best way, consistent with the criteria," said Mr. Sousa. "They did a good job presenting and communicated what they wanted for a message: something useful and practical."
The HCKY Stick was one of five student teams which presented Tuesday in front of a panel of judges that included:
Linda Hirsch, Assistant Superintendent at Chelmsford Public Schools
Jay Lang, Superintendent of Chelmsford Public Schools
Donna McFadden, Massachusetts DECA State Advisor
Steve Murray, CHS Principal
Kevin Willett, Professor, UMass Lowell Manning School of Business/DifferenceMaker Program
Other teams competing Tuesday included:
Rock 'n Golf (senior David McMillan, junior Leo Gutierrez, sophomore Sabrina Shedd, and freshmen Chethan Annola and Armani Satasin): With the sport of golf appealing to an increasing number of younger players – coupled with music on golf courses increasingly common – Rock 'n Golf is a lightweight, high quality golf bag, less bulky with a speaker on the top of the bag. The removable speaker is Bluetooth enabled and can be charged by a built-in solar panel and/or a traditional wall plug.
Garden Group Greenery (seniors Sam Healy, Keokanchana Sam and Caleb Stuart, sophomore Addison Ryan and freshman Ben Cuesta): The H2 Grow plant holder that waters automatically, the Garden Group Greenery group noted that 66 percent of households own at least one plant and that 84.8 of such households forget to water their plants. The plant holder would come with a 3.5-ounce water bottle and spritzer, a heated lamp and a soil meter to assess moisture levels, which would trigger watering when needed.
Boss Dog (senior Taylor Polley, sophomores Colby Kinney, Jiah Mukherjee, and freshman Ryan Gomes): The Gentle Leader Harness is a loose-fitting dog harness that fits comfortably around the head of a dog and is equipped with LED lights for nighttime walking. The harness also contains sensors to loosen slightly when too tight but remain secure to keep the dog safe.
Tempus (seniors Thomas Ervin and Aliah Katz, junior Ben O'Brien and freshman Monica Jones): Tempus is an organizational app that encompasses all calendars and to-do lists into one. The Tempus foursome identified several key statistics, how 21 percent of people feel their lives are manageable only one day or one week at a time; how 18 percent use a proper time management system; and, most telling, that 58 percent feel their lives are cluttered.
"This gets them thinking about the whole idea of entrepreneurship," said Mr. Sousa, who is considering bringing a second team to the UML DifferenceMaker Challenge. "They need to figure how to adapt and how to present. We really want them to feel comfortable presenting."
The UML DifferenceMaker Challenge, sponsored by Digital Credit Union, is expecting 10 teams to compete on Nov. 30. Ganesh Danke, a Class of 2022 graduate and freshman at Northeastern, finished runner-up at the 2020 UML Virtual DifferenceMaker Challenge.
About Chelmsford Public Schools
The Chelmsford Public School District provides all students with multiple pathways to optimize their own potential for academic excellence, leadership, and social and emotional wellness. The mission of the Chelmsford Public Schools is to educate, engage, prepare, and empower well-rounded and knowledgeable learners to PERSEVERE through challenges, demonstrate RESPECT and INTEGRITY in their words and actions, are DEDICATED to their community, and display EMPATHY as global citizens while discovering and pursuing their full potential. This PRIDE-driven culture enables all members of the school community to support the growth and development of students. For more information, please visit www.chelmsfordschools.org.