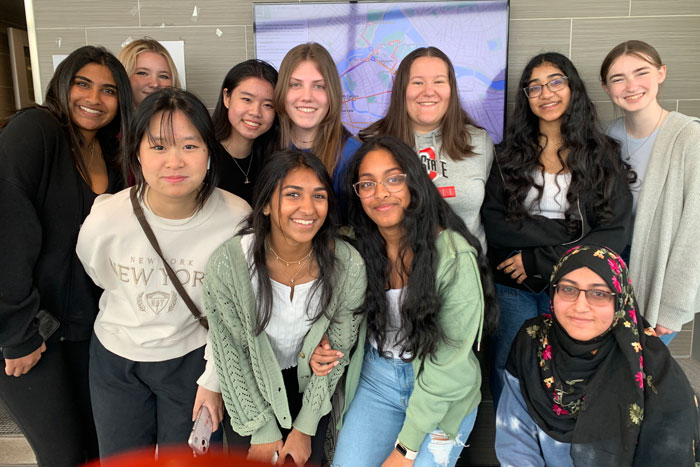 CHS AP Chemistry Students Succeed on Two Levels at UML's 'Spring Into Science' Showcase
in News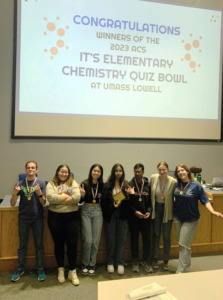 CHS AP Chemistry students win ACS Chemistry Quiz Bowl, tour university-level chemistry facilities at UML
CHELMSFORD, MA (Apr. 24, 2023) – Chelmsford High School's Advanced Placement (AP) Chemistry students placed first and second at the American Chemical Society (ACS) Chemistry Quiz Bowl Wednesday, Apr. 12 at UMass Lowell's Alumni Hall.
The ACS Chemistry Quiz Bowl was part of UML's fourth annual 'Spring Into Science: A Celebration of Discovery, Innovation and Education in Science' showcase, which hosted several local high schools. The showcase included a tour of UML's Department of Chemistry labs and facilities, an overview of the UML's science programs, question/answer session, and observance of experiments conducted by UML students.
While the finish marked the second straight year CHS AP Chemistry students won the Quiz Bowl, AP Chemistry educator Dr. Somdatta Chowdhury emphasized the entirety of the experience was invaluable.
"I'm super proud of our students," said Dr. Chowdhury, the AP Chemistry educator at CHS. "It was a lot of fun. We got to see what the labs in a university are going to look like. We got to see a lot of instruments in the lab which our students hadn't been exposed to in the past.
"Most of the students in AP Chemistry are going to pursue this field," Dr. Somdatta added. "The students had a blast. It was a very good experience."
The ACS Quiz Bowl consisted of three rounds of questions with the level of difficulty increasing with each round.
Students who participated in the 'Spring Into Science' showcase included:
Caitlin Correa (Jr.)
Sara DeHaan (Jr.)
Sherry Guo (Jr.)
Eshal Hussain (Jr.)
Varnika Mandava (Jr.)
Tabor Morin (Sr.)
Diya Munshi (Jr.)
Audrey Rice (Jr.)
Sayomik Sett (Jr.)
Sritha Sithalam (Jr.)
Joyce Tong (Jr.)
Laasya Vemparala (Sr.)
Hannah Wolman (Sr.)
About Chelmsford Public Schools
The Chelmsford Public School District provides all students with multiple pathways to optimize their own potential for academic excellence, leadership, and social and emotional wellness. The mission of the Chelmsford Public Schools is to educate, engage, prepare, and empower well-rounded and knowledgeable learners to PERSEVERE through challenges, demonstrate RESPECT and INTEGRITY in their words and actions, are DEDICATED to their community, and display EMPATHY as global citizens while discovering and pursuing their full potential.  This PRIDE-driven culture enables all members of the school community to support the growth and development of students.  For more information, please visit www.chelmsfordschools.org.