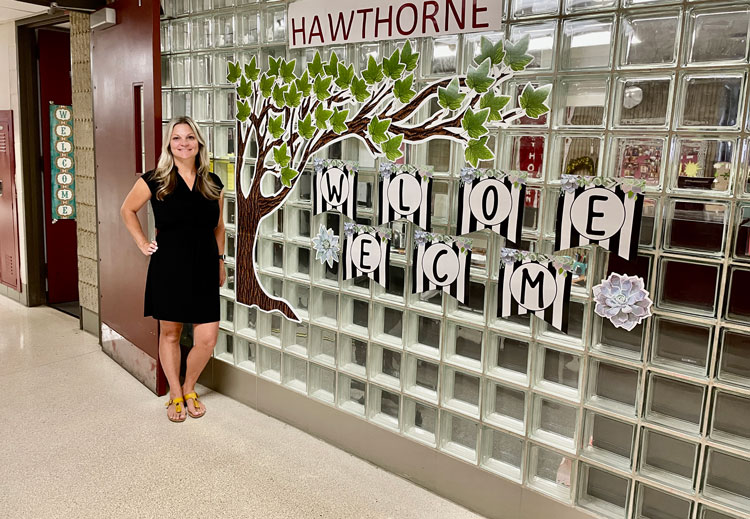 Christina Mitza Named Dean of Hawthorne House at Chelmsford High School
in News
Ms. Mitza replaces Joshua Blagg; started post July 3
CHELMSFORD, MA (July 20, 2023) – Christina Mitza, a native of Billerica, Mass., was named the Dean of Hawthorne House at Chelmsford High School, Principal Stephen Murray and Superintendent Jay Lang announced Monday, July 3.
Ms. Mitza replaces Joshua Blagg, who recently accepted the role of principal at Chelmsford's Col. Moses Parker Middle School after 13 years as Dean of Hawthorne House.
"Ms. Mitza is a life-long learner who sees education as continuously evolving," said Mr. Murray. "She believes that to provide students with a proper learning environment, it is incumbent upon her to be reflective in her practice. According to her previous supervisor and colleagues, Ms. Mitza is an effective and dedicated educator who takes on important tasks beyond the classroom that benefit the entire school. Ms. Mitza is a true advocate for students and has demonstrated sound knowledge of student growth and learning."
Ms. Mitza comes to Chelmsford following 18 years as an English teacher, the last five in the Billerica Public School system (2018-23), and 13 years at Nissitissit Middle School in Pepperell, Mass.
"Chelmsford is a great school district with a lot of opportunities to offer its students," Ms. Mitza said. "I'm looking forward to spending my time acclimating myself to the Chelmsford Community and building relationships with the students, parents, and staff.
"I would like to follow the lead of Mr. Murray and collaborate with the administrative team to maintain the successful practices they have implemented and support the vision they have for the future of the district," she added. "I'm really excited about being a part of it."
Along with teaching English Language Arts to five classes daily, Ms. Mitza served in several other leadership roles in her years at Billerica and was the recipient of the Honor Thy Teacher award four straight years (2019-22).
Ms. Mitza was a member of the Instructional Leadership Team which determined, developed, and aligned professional development goals for staff and established instruction that facilitated student engagement, critical thinking and problem solving. She spent last year as a member of the School Council – consisting of the school principal and six parent representatives from the district – which discussed and evaluated school issues and goals.
"I find myself being drawn to any leadership role I can get my hands on," Ms. Mitza said. "I truly enjoy helping and mentoring teachers."
Ms. Mitza remained committed to education for many summers, including last, serving as the Summer Intervention Program Coordinator at BMHS for which she organized course schedules, transportation, curriculum, and supplies among many other tasks. While at Nissitissit, she taught summer courses at Billerica from 2005-10.
Ms. Mitza had recently been named the co-chair of the Billerica's New England Association of Schools and Colleges (NEASC) accreditation effort, attending workshops, monitoring improvements and growth and working alongside committees to maintain accreditation. She also was a member of the Billerica's Climate Committee, meeting with students, parents, and community stakeholders to reach climate improvement goals.
A 2003 graduate of Framingham State University, Ms. Mitza earned her bachelor's degree in English and went on to achieve a master's degree in middle school education at Lesley University in 2005. She also earned her Certificate in Advanced Graduate Studies (CAGS) in school leadership from Fitchburg State in 2022.
Ms. Mitza lives in Billerica with her husband, Bob, and their children Bobby (9) and Charlotte (7).
About Chelmsford Public Schools
The Chelmsford Public School District provides all students with multiple pathways to optimize their own potential for academic excellence, leadership, and social and emotional wellness. The mission of the Chelmsford Public Schools is to educate, engage, prepare, and empower well-rounded and knowledgeable learners to PERSEVERE through challenges, demonstrate RESPECT and INTEGRITY in their words and actions, are DEDICATED to their community, and display EMPATHY as global citizens while discovering and pursuing their full potential.  This PRIDE-driven culture enables all members of the school community to support the growth and development of students.  For more information, please visit www.chelmsfordschools.org.