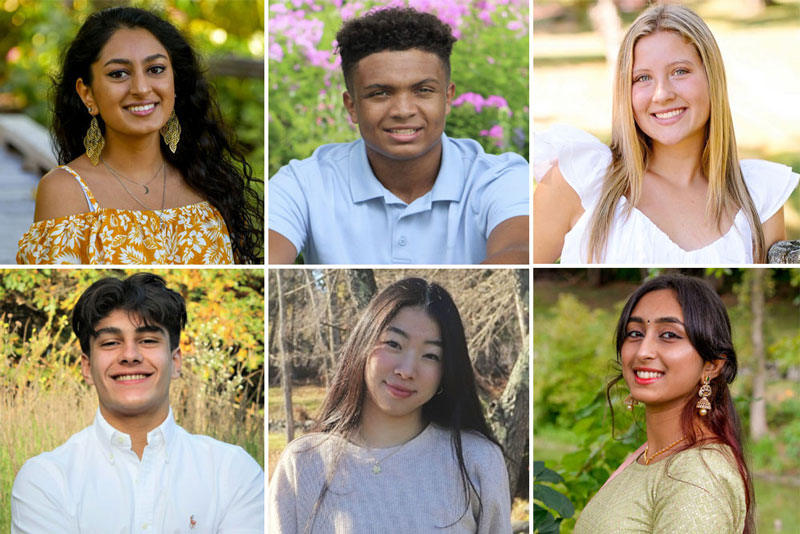 Chelmsford High School Announces June 2023 Students of the Month
in News
CHELMSFORD, MA (June 1, 2023) – Six seniors were recently honored as Chelmsford High School named its Lions Pride/Rotary Student of the Month recipients for the month of June, announced CHS Principal Stephen Murray.
Seniors Torrence Borletto-McCray and Sriya Yerasu were named from Emerson House while Manny Marshall and Annemarie Tyros were honored from Hawthorne House, and Maya Aggarwal and Waka Umaoka from Whittier House.
Sponsored by the Chelmsford Rotary Club for more than 30 years, the Student of the Month program recognizes outstanding students from each of CHS's three academic houses – Emerson House, Hawthorne House, and Whittier House – for their achievements in and out of the classroom.
Torrence Borletto-McCray
A three-sport athlete, Mr. Borletto-McCray recently finished a rigorous course schedule which included Physics, Pre-Calculus, Quantitative Reasoning and Senior Odyssey, among others while interning at Ortho Lazer, a joint pain reduction clinic in Chelmsford.
A four-year varsity student-athlete, Ms. Borletto-McCray was a member of the soccer team as well as a sprinter on the indoor and spring track and field teams, the latter for which he was named captain this season. He also competes with Cambridge-based Jets Track Club and volunteers with Top Soccer, a soccer league for players with disabilities.
Off the field, Mr. Borletto-McCray is active with Class Representatives for which he has volunteered for fundraisers, causes, and events.
Mr. Borletto-McCray will attend Assumption College this fall where he will major in business management. He aspires to work within the Boston Celtics organization and, in addition, open his own business.
He is the son of Tracy Borletto and Brian McCray.
Sriya Yerasu
Inducted in three national honor societies, Ms. Yerasu was immersed in challenging coursework this semester including AP Computer Science, AP Psychology, AP Literature and Composition as well as Biotechnology and Calculus.
A member of the National Honor Society, National English Honor Society and treasurer of the CHS's French National Honor Society, Ms. Yerasu is involved in a bevy of student organizations such as Interact, Get Involved Volunteer Everywhere (GIVE) Club and the Yearbook, the latter for which she completed her senior internship. She has also been a four-year member of Class Representatives.
Off campus, Ms. Yerasu volunteers for Biotech and Global Health Outreach, a Cambridge-based student-run non-profit organization which makes science, technology, engineering, and manufacturing (STEM) opportunities accessible to all students.
Ms. Yerasu will attend the University of Connecticut this fall where she will major in cognitive science. She is the daughter of Janaki Manchala and Ganeswara Yerasu.
Manuel Marshall
A decorated student-athlete, Mr. Marshall spent his final semester enrolled in courses such as Introduction to Criminal Justice, Psychology and Woodworking while also studying the coursework for CHS's Business Career Pathways program.
Mr. Marshall was a First Team All-Merrimack Valley Conference (MVC) standout lacrosse player last spring as well as an MVC First Team honoree in football. Perhaps most impressive, he was a Second Team MVC standout wrestler last winter, a sport in which he began competing as a junior. He helped the football team to a stellar 8-3 record and the Massachusetts Interscholastic Athletic Association (MIAA) Tournament quarterfinal last fall.
Entering the MIAA Division 1 Lacrosse Tournament (pairings to be announced), the Lions are 13-5 and ranked No. 14 in the latest MIAA poll.
While not competing, Mr. Marshall volunteers as a with Chelmsford Youth Lacrosse as an official as well as the Chelmsford Cougars Pop Warner football league.
Mr. Marshall will continue his lacrosse career and pursue sports management at Endicott College in the fall. He is the son of Mike and Krista Marshall.
Annemarie Tyros
A mainstay on the CHS Honor Roll, Ms. Tyros is a NHS inductee who recently completed her spring semester coursework which included Physics, Senior Odyssey, Psychology, and Early Childhood 3, among others.
A three-sport athlete in field hockey, indoor track and field and lacrosse, Ms. Tyros helped the field hockey team to a 15-5 clip and an appearance in the MIAA Division 1 Tournament quarterfinal. Additionally, she has helped the lacrosse team (14-4) to the MVC Championship. The Lions, ranked No. 9 in the latest Power Rankings, await the MIAA Division 1 Tournament pairings to be announced this week.
In addition to her commitments with the NHS, Ms. Tyros is a member of Freshmen Mentors, helping underclass students adapt to high school; as well as Best Buddies, with which she works with special needs students. She is also a member of the Dean's Council.
Ms. Tyros will attend Endicott College in the fall to major in elementary education and eventually become an elementary school teacher. Ms. Tyros is the daughter of George and Becky Tyros.
Maya Aggarwal
With a head start on her college coursework, Ms. Aggarwal has consistently been an Honor Roll student while taking leadership roles in several clubs and causes at CHS.
Ms. Aggawal capped her final semester enrolled in four AP classes – Psychology, Government, Research, and Literature and Composition – while taking courses at Tufts and Middlesex Community College.
Ms. Aggarwal served as president of the Civic Action Club, which rallies behind causes and social issues; and serves as co-president of QueerSpace. Additionally, she is a member of Freshmen Mentors.
Ms. Aggarwal will attend the University of Massachusetts in the fall where she will major in women, gender and sexuality studies. She aspires to pursue mental health counseling upon graduation, and possibly to become a college professor.
She is the daughter of Ashish and Ritu Aggarwal.
Waka Umaoka
A member of the NHS and French National Honor Society, Ms. Umaoka closed her high school tenure enrolled in four AP courses, including Caluculus, Statistics, Psychology and Environmental Science. She was also enrolled in Senior Odyssey (dual enrollment), Honors Physics and Reality Check.
Along with her induction into the French NHS, Ms. Umaoka recently received the Massachusetts Department of Secondary and Elementary Education (DESE) State Seal of Biliteracy with distinction in Japanese.
Ms. Umaoka is very active in several clubs at CHS. A four-year member of the Dance Team, she served as captain as a senior as well as the secretary of Book Talk. She also gives her time to Class Representatives and the Door Painting Project.
Off campus, Ms. Umaoka attends the Japanese Language School of Greater Boston, and volunteers at Living Waters Center of Hope transition center, the Roudenbush Community Center and as a dance instructor.
Ms. Umaoka will attend Binghamton University to study nursing with the goal of becoming a pediatric nurse and dance instructor. She is the daughter of Yoshito and Masako Umaoka.
About Chelmsford Public Schools
The Chelmsford Public School District provides all students with multiple pathways to optimize their own potential for academic excellence, leadership, and social and emotional wellness. The mission of the Chelmsford Public Schools is to educate, engage, prepare, and empower well-rounded and knowledgeable learners to PERSEVERE through challenges, demonstrate RESPECT and INTEGRITY in their words and actions, are DEDICATED to their community, and display EMPATHY as global citizens while discovering and pursuing their full potential. This PRIDE-driven culture enables all members of the school community to support the growth and development of students. For more information, please visit www.chelmsfordschools.org.