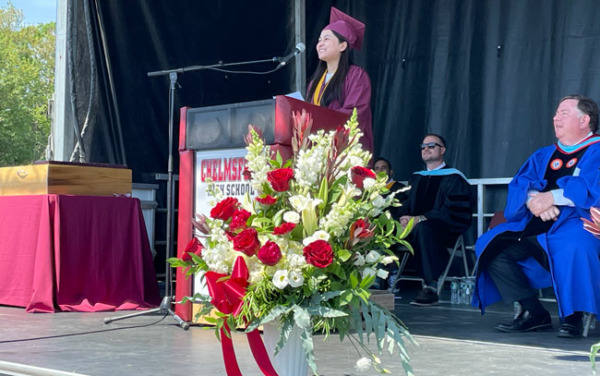 Chelmsford High School Celebrates 'Resilient' Class of 2021
Leaders, students speak of perseverance, positives and pivoting
CHELMSFORD, MA (June 7, 2021) – If one had asked Chelmsford Superintendent of Schools Dr. Jay Lang last fall if there would be an in-person graduation ceremony, he admittedly would've said 'no.'
"I can not tell you how happy I am that we are here today that we are able to celebrate this milestone in your life together," he told the Chelmsford High School graduating class of 2021 on Saturday afternoon at George Simonian Stadium. "I am proud of you. The administration and staff of Chelmsford High School are proud of you. And the Community of Chelmsford is proud of you."
Dr. Lang's remarks were the precursor to several speakers who lauded the resilience and perseverance of the Class of 2021, their families and support systems.
CHS Principal Stephen Murray heaped praise on the CHS's four class officers – Secretary Jackie Rigazio, Treasurer Luke Abraham, Class of '21 Vice President Sudeep Gubbala and President Peter Mitchell.
"No class officers had to grapple with the challenges that Peter, Jackie, Luke and Sudeep had to endure," Mr. Murray told the audience. "They had the weight of the senior class and their families on their shoulders. I cannot tell you how many plans, activities, fundraisers and proms they planned, and had to change what was changed multiple times over. Regardless, the Fab Four marched on."
Mr. Murray also spoke of CHS alumnus Joseph Edward McShane, Jr., who left high school in 1964 – in the middle of his junior year – to join the U.S. Army and enter the war in Vietnam. In May, Mr. Murray presented Mr. McShane with his CHS diploma, 55 years after leaving for Vietnam.
"I mention this story to you because of its relevance," Mr. Murray said. "This pandemic changed so much of our lives in so many ways. Plans people made have changed. Goal lines for achievements and goal lines for events were moved. The past 15 months made me appreciate the old saying, 'Life is not waiting for the storm to pass, it's learning to dance among the raindrops.' Your junior and senior year were like no others. However, you persevered."
Salutatorian Connor Mitchell reminded the Class of 2021 of its "unshakeable spirit of resilience," demonstrated even before the Covid-19 outbreak: "At the beginning of freshman year, when we came to this building as frightened middle schoolers, each and every one of us made a conscious decision to adapt to, and even embrace, our new surroundings."
Before the ceremonial presentation of the gavel to Class of 2022 President Marcos Hernandez, current president Peter Mitchell powerfully challenged his classmates to find the positives, not what was denied, over the last 15 months.
"Yes, many of us didn't get to perform our talent or our sport as a senior," Mr. Mitchell said. "But did many of us not develop new hobbies and become passionate about something that we will carry with us our entire lives? I ask you to think about these moments where you reconnected with something that the pandemic took away from you. Seeing a close friend. A teacher you missed. A loved one."
Valedictorian Michelle Ly urged her classmates to think of those who believed, made a difference and inspired them. "You probably won't have to think, much less look, very far," she noted. "Some of these people are right here."
Ms. Ly also offered perhaps the quote of the day: "This year was tough. But so are we."
Finally, before the conferring of some 370 diplomas, CHS science teacher Jason Dussault, who was asked to address the Class of 2021 by its students, advised the graduates that Saturday's ceremony was just the beginning. "What has been a singular career for me, has only been just the beginning for you," he said. "In terms of you, who you are, you're not even who you're going to be yet. I don't think the courses and the content were the most difficult aspects of the past four years.
"Instead, I think it's maybe the fact that your choices are beginning to add up," he added. "Your decisions and the consequences now have weight, now begin to describe you."
About Chelmsford Public Schools
The Chelmsford Public School District provides all students with multiple pathways to optimize their own potential for academic excellence, leadership, and social and emotional wellness. The mission of the Chelmsford Public Schools is to educate, engage, prepare, and empower well-rounded and knowledgeable learners to PERSEVERE through challenges, demonstrate RESPECT and INTEGRITY in their words and actions, are DEDICATED to their community, and display EMPATHY as global citizens while discovering and pursuing their full potential.  This PRIDE-driven culture enables all members of the school community to support the growth and development of students.  For more information, please visit www.chelmsford.k12.ma.us.