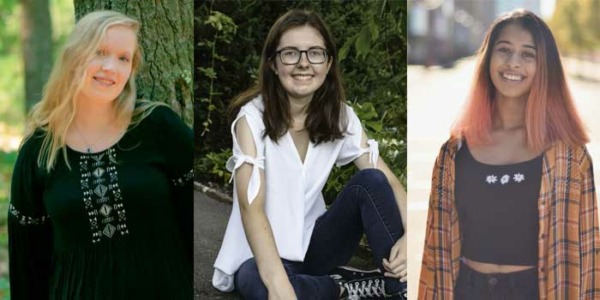 CAC to focus on local issues including Chelmsford Center Project, small businesses as well as the local impacts of climate change and racism
CHELMSFORD, MA (Mar. 23, 2021) – Senior Gayathri Mantha founded the Civic Action Club at Chelmsford High School last fall to get more involved in local politics and to inspire others to do the same.
She and the Civic Action Club are headed in the right direction as the Club will host the Town of Chelmsford Select Board candidate debate Wednesday, Mar. 31 at 7 p.m. at the Chelmsford High School Performing Arts Center. Four candidates hopeful of filling two vacant seats – George Dixon, Latosha Dixon, April Danielson and Mark Carota – will engage in the debate leading up to the Tuesday, Apr. 6 election.
"Our current goal is to get more involved in politics, especially local politics," Ms. Mantha said. "(The debate) is pretty historic because two women of color are running for office, and the Civic Action Club is almost all women."
The candidate debate will be moderated by members of the Civic Action Club and streamed by Chelmsford Telemedia – by an all-student film crew – on its YouTube channel. It will also be broadcast on Xfinity channel 22 and Verizon channel 36. Only the candidates, moderators and film crew will be permitted in the CHS Performing Arts Center due to Covid-19 safety guidelines.
Debate topics are expected to include the condominium project in the Town Center, the increasing number of businesses in town, as well as local impacts of racism and climate change. The Civic Action Club is encouraging those interested in the debate to indicate their most pressing issues and submit questions in advance through its public interest form.
Ms. Mantha is also in the process of organizing an online student watch party to be followed with a Q&A discussion.
It was the Civic Action Club's idea to host a debate for the four candidates, and Ms. Mantha posed the idea to them personally. "They were pretty happy about it," she noted. "I think we were the first to reach out to them about the debate. They were really excited. We thought it was a super easy way to get to know the four candidates."
They also received a rousing endorsement from Select Board Chair Ken Lefebvre. "Student involvement is interesting to see," he said. "Encouraging them to take ownership in the future of the town is exciting and should benefit all of us in the long run."
The Civic Action Club is well-versed in debate protocol. Moderated by Ms. Mantha, the club stages its own debates on the last Thursday of each month – it has had six debates over the school year – and adheres to guidelines for subject matter and time constraints.
Ms. Mantha took inspiration from the Black Lives Matter movement last year as the impetus to form the Civic Action Club at CHS. "As a student, I kept thinking about what we could do," she said. "I wanted to have an outlet for students in our school, to make an impact."
Students interested in joining the Civic Action Club should contact Ms. Mantha at mg211528@cpslions.com.
"Hopefully we can continue the local politics interest with students," said Ms. Mantha, who noted she hopes to steadily grow the club's membership (currently six students). "Our first year has been kind of crazy, but I'm proud of what we've done so far."
About Chelmsford Public Schools
The Chelmsford Public School District provides all students with multiple pathways to optimize their own potential for academic excellence, leadership, and social and emotional wellness. The mission of the Chelmsford Public Schools is to educate, engage, prepare, and empower well-rounded and knowledgeable learners to PERSEVERE through challenges, demonstrate RESPECT and INTEGRITY in their words and actions, are DEDICATED to their community, and display EMPATHY as global citizens while discovering and pursuing their full potential.  This PRIDE-driven culture enables all members of the school community to support the growth and development of students.  For more information, please visit www.chelmsford.k12.ma.us.