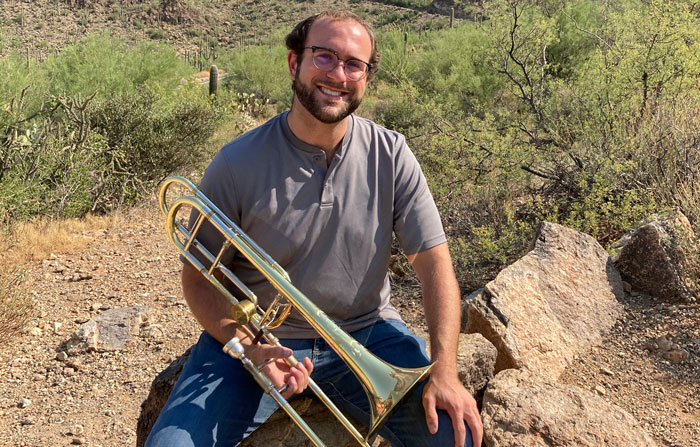 Chelmsford Community Education Welcomes Dan Sherman as Brass/Piano Instructor
in News
Peabody native offering Monday piano/brass lessons beginning Jan. 23
CHELMSFORD, MA (Jan. 12, 2023) – Chelmsford Community Education, which has provided diverse and unique programming to people of all ages in the Chelmsford community and beyond, has named Dan Sherman as its new brass and piano instructor.
A native of Peabody, Mass., Mr. Sherman will be teaching in-person, one-on-one lessons on Mondays for the CCE winter-spring session, which begins on Monday, Jan. 23. To register for lessons or for more information on programming, visit ChelmsfordCommunityEd.com or call 978-251-5151, extension 6091.
About Dan Sherman
With an impressive background in music education and performing, Mr. Sherman has taught undergraduate private lessons, coached various chamber music groups, and co-taught brass methods courses for undergraduate music education majors in his role as a teaching assistant at the University of Arizona.
During his time in Arizona, He was a sought-after performer who performed with the Tucson Symphony Orchestra, Southern Arizona Symphony Orchestra, Saguaro Brass Choir, and the University of Arizona Symphony Orchestra. Mr. Sherman's smaller ensemble work includes performances with the Marie Osmond Orchestra, the Pete Swan Big Band, and Tucson Symphony Orchestra's Brass Quintet.
Mr. Sherman is completing his dissertation on a Doctor of Musical Arts in Trombone Performance with the University of Arizona. He also holds degrees from the University of Florida (M.M.) and Penn State (B.M.E. and Professional Performer's Certificate).  He attributes all of his recent success to his trombone teachers, including Professor Michael Becker, Dr. Erik Shinn, and Professor Mark Lusk.
View Dan Sherman performing live:
About Chelmsford Public Schools
The Chelmsford Public School District provides all students with multiple pathways to optimize their own potential for academic excellence, leadership, and social and emotional wellness. The mission of the Chelmsford Public Schools is to educate, engage, prepare, and empower well-rounded and knowledgeable learners to PERSEVERE through challenges, demonstrate RESPECT and INTEGRITY in their words and actions, are DEDICATED to their community, and display EMPATHY as global citizens while discovering and pursuing their full potential. This PRIDE-driven culture enables all members of the school community to support the growth and development of students. For more information, please visit www.chelmsfordschools.org.