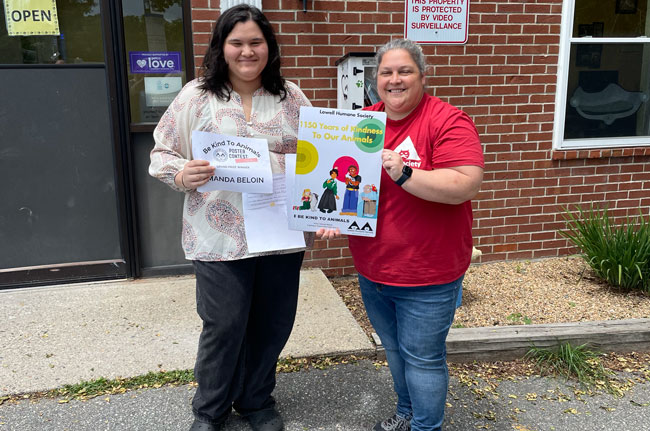 Chelmsford Student Artists Sweep Humane Society's 'Be Kind to Animals' Poster Contest
in News
Sophomore Amanda Beloin honored with grand prize
CHELMSFORD, MA (June 27, 2023) – Sophomore Amanda Beloin received the grand prize as Chelmsford Public Schools student-artists swept all three age categories of the Lowell Humane Society's Be Kind to Animals Poster Contest, the Society announced recently.
Ms. Beloin was selected out of the Grade 9-12 age group and joined Byam Elementary School fourth grader Racheal Polepally, who won the Grade 2-4 age group; and Parker Middle School sixth-grader Addyson Mele, who won the Grade 5-8 age group.
Ms. Beloin's piece will be used for the Society's 150th anniversary poster, to be celebrated in September. The poster contest drew 90 submissions.
All three recipients were honored at a ceremony at the LHS on Sunday, June 18.
Ms. Beloin, a student of Chelmsford High School art educator Madalena Alves, created the winning poster digitally, depicting several people enjoying their pets and noting the Society's 150 years of service to Greater Lowell.
"Amanda is extremely creative, and her artwork is detailed with the highest of quality in her craftsmanship of each piece," said Ms. Alves. "Not only does she excel in the hands-on art of watercolor, graphite, printing, but also in the digital area. I am thrilled she has been recognized for her talents and skills by the Lowell Humane Society through her poster. This was an optional piece that she created digitally during Art Club of which she is a member."
Ms. Polepally is a student of Ms. Amy Brown at the Byam Elementary School. Her piece, which consisted of colored pencils and a fine outlining pen, included numerous common animals and rare types such as pea crab, a Japanese dwarf flying squirrel, Philippine tarsier, and a toucan.
"Racheal is a hardworking fourth grade artist who always gives her best effort," said Ms. Brown. "She loves exploring materials and trying new things in art class. Her attention to detail is apparent in every work of art she creates."
Ms. Mele's work celebrated the 150 years of the LHS with an orange feline cat, a bird fleeing its cage and a small, gray terrier in impressive detail. She is a student of Parker Middle School teacher Dawnmari Annunziata.
"I have had the privilege of being Addy's art teacher for fifth and sixth grade," said Ms. Annunziata. "She is not only extremely artistically talented but a very sweet, polite, caring, and thoughtful girl. I have witnessed her inside and outside of my classroom demonstrating true Parker pride. I'm looking forward to hearing about all the amazing things that she will accomplish in the future."
The honors are the latest of several during the 2022-23 academic year for Chelmsford fine arts students and faculty.
About Chelmsford Public Schools
The Chelmsford Public School District provides all students with multiple pathways to optimize their own potential for academic excellence, leadership, and social and emotional wellness. The mission of the Chelmsford Public Schools is to educate, engage, prepare, and empower well-rounded and knowledgeable learners to PERSEVERE through challenges, demonstrate RESPECT and INTEGRITY in their words and actions, are DEDICATED to their community, and display EMPATHY as global citizens while discovering and pursuing their full potential. This PRIDE-driven culture enables all members of the school community to support the growth and development of students. For more information, please visit www.chelmsfordschools.org.