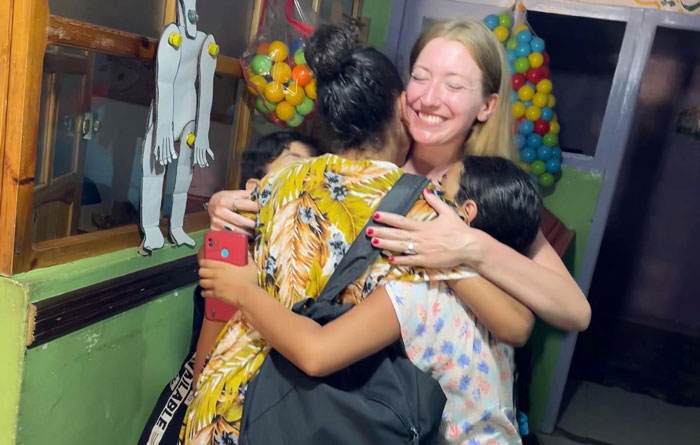 Belle Cole '19, Obama-Chesky Voyager Scholarship Recipient, is Empowering Migrant Women and Children
in News
2019 CHS graduate spent two months in Rabat, Morocco and Athens, Greece teaching, inspiring
CHELMSFORD, MA (Aug. 2, 2023) – When Belle Cole, Chelmsford High School Class of 2019, returns to Salve Regina University for her senior year in a few weeks, someone will inevitably ask what she did this summer.
A long conversation will likely follow about living in Rabat, Morocco and Athens, Greece. About the migrant women to whom she taught English and cared for and their stories of struggle. She might also delve into how deeply the experience has moved her, and how it is shaping her career plans.
The conversation could last hours.
Ms. Cole spent five weeks in Rabat teaching English to children, mostly migrants from war-torn countries. She then spent three weeks in Athens as a caretaker for eight refugee women aged 18 and under – three of whom are mothers – at a facility overseen by The Home Project.
"Not long enough," Ms. Cole said of her stay in both Rabat and Athens. She noted her homecoming on July 30 will be bittersweet.
Ms. Cole's work in Rabat and Athens stems from her passion for mental health issues and social work (her major at SRU) as well as immigration and human rights. She spent the spring semester of her sophomore year studying migration in Rabat and learning Arabic.
When she returned, Erin Fitzgerald, Director of SRU's Center for Global Education and Fellowships, suggested she apply for the Obama Chesky Voyager Scholarship for Public Service, founded by the former president and Brian Chesky, the CEO of Airbnb. Recipients of the Voyager Scholarship receive up to $50,000 in financial aid for their junior and senior years as well as a $10,000 stipend and free Airbnb lodging while pursuing a work-travel experience in the summer.
Ms. Cole was one of 100 students nationwide selected for the Scholarship. So moved by her semester in Rabat, she chose to return to teach English to children – ages 3-13 – at two migrant centers, both named Amal Chabab Takedoum and located in an impoverished area.
In May, Ms. Cole discovered The Home Project, which provides services such as legal counsel, social workers, psychologists, education, and an allowance to migrants from war-ravaged countries. She connected with its CEO, Sofia Kouvelaki, a member of The Obama Foundation Leaders Europe and soon her work-travel experience was solidified: Five weeks teaching English at Amal Chabab Takedoum and three weeks as a caretaker at one of the 13 Home Project locations in Athens.
"At first, I was really nervous. I only had three months of Arabic under my belt," she explained. "They were so eager. None had formal educational experience. We focused on basic nouns, verbs, different occupations. It was definitely a mutual exchange."
While Ms. Cole was teaching, she was also learning. While she taught English, her students reciprocated with her Arabic. She recalls one class in which she asked her students what they aspired to be. One by one, each stood and shared and was applauded by the class. "It was wonderful to see their smiles when they shared this," Ms. Cole said.
In another class, Ms. Cole taught her students affirmations and asked them to write them in English. "They didn't really understand the point of it, but then I heard them practicing on their own," she said. "After class they would hug me and say their affirmation."
Hugging became a class-ending ritual. The five weeks in Rabat flew by. Such was the impression Ms. Cole left that the principal of one of the centers encouraged her to tell her friends about Amal Chabab Takedoum and its mission.
"In Morocco, the people are so welcoming," Ms. Cole said. "I'd be invited to a café. A family invited me to spend a holiday with them. It is more a lesson for the world and America, what it means to be open and accepting."
Ms. Cole spent the next three weeks at The Home Project caring for women from Sierra Leone, Lebanon, Pakistan, Gaza, and Somalia. Among many other duties, she looked after the children while their mothers took advantage of the provided services. She escorted women to English and Greek language lessons. All the while, she practiced her Arabic with the help of her migrant family while she helped them learn basic English.
As each migrant had harrowing stories of making their way to Greece and leaving families and loved ones in search of a better life, the mood at the shelter was far from despair. "There is that general uncertainty, but it's not necessarily an air of sadness," Ms. Cole said. "It's more resiliency.
"I wish I had more time," she added. "It's only been three weeks."
Upon returning to SRU in late August, Ms. Cole has a full slate. While finishing her bachelor's degree in social work with a minor in global studies, she will also complete a 16-hour-per-week internship at Central High School in Providence. She also intends to start applying to graduate schools to earn her master's degree in social work with aspirations of working in the immigration and human rights sector.
"Getting the opportunity to teach English to migrant children has been an honor," Ms. Cole said. "We need more places that can help the immigration of migrants instead of forcing them into places they don't want to be."
Ms. Cole is the daughter of Ben and Cate Cole, the former a longtime social studies educator at CHS.
About Chelmsford Public Schools
The Chelmsford Public School District provides all students with multiple pathways to optimize their own potential for academic excellence, leadership, and social and emotional wellness. The mission of the Chelmsford Public Schools is to educate, engage, prepare, and empower well-rounded and knowledgeable learners to PERSEVERE through challenges, demonstrate RESPECT and INTEGRITY in their words and actions, are DEDICATED to their community, and display EMPATHY as global citizens while discovering and pursuing their full potential.  This PRIDE-driven culture enables all members of the school community to support the growth and development of students.  For more information, please visit www.chelmsfordschools.org.