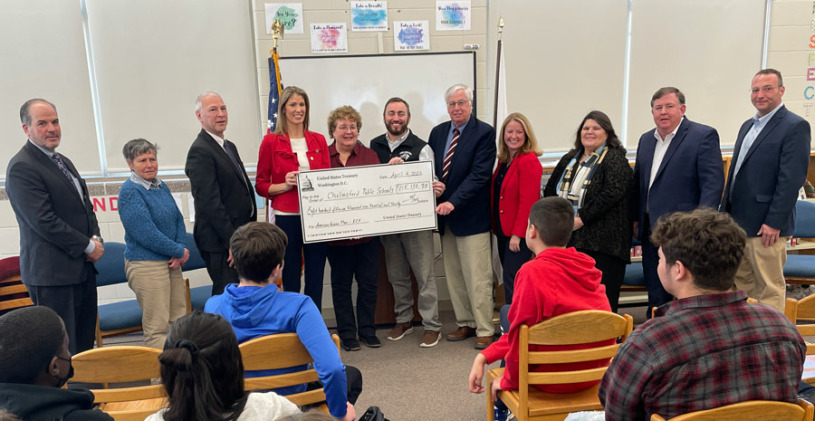 Chelmsford Public Schools Receives More Than $800,000 Through ARPA FCC Emergency Connectivity Fund Program
in News
Program will fund 2,200 Chromebooks, 70 hotspots for middle, high school students
VIEW: Congresswoman Lori Trahan press release
CHELMSFORD, MA (Apr. 4, 2022) – Chelmsford Public Schools received $815,130.70 through the Federal Communications Commission's Emergency Connectivity Fund Program, announced Congresswoman Lori Trahan (MA-03) today at the Parker Middle School Library.
The program, which is part of the American Rescue Plan Act (ARPA), is helping schools and libraries ensure students can connect to the internet at home so that they can meet homework needs and learn online. Chelmsford is one of 25 school districts and libraries in the Massachusetts Third District which received funding, which it has used to purchase 2,200 Chromebooks for each middle school and high school student.
Additionally, the District has also purchased 70 wifi hotspots for each library – each with unlimited bandwith and children's internet protection act (CIPA) filtering – which students can sign out with parental/guardian consent.
The purpose of the funds is to eliminate what is called 'the homework gap,' the result of students falling behind their peers academically due to the lack of equipment and internet access at home.
"The pandemic has shown just how critical access to the internet and necessary technology is for students," said Chelmsford Public Schools Superintendent Jay Lang. "The funding secured by Congresswoman Trahan through the American Rescue Plan enabled us to meet this urgent need by purchasing and distributing 2,200 Chromebooks to Chelmsford students, which will help students in their education for years to come. We're grateful for the Congresswoman's continued partnership and support and look forward to our ongoing work together to ensure that every student in Chelmsford has access to the tools they need to succeed in the classroom."
Congresswoman Trahan announced the funding for Third District schools and libraries in a press release on Mar. 18.
"Through legislation like the American Rescue Plan, we created programs to help school districts cover the costs of unique and expensive programs designed to keep kids learning and close the homework gap — programs like the Emergency Connectivity Fund Program," said Congresswoman Trahan. "I'm proud that this new program has delivered so mightily for Chelmsford Public Schools and for schools across the Third District, and I look forward to continuing my work with community leaders to secure even more funding to further support students in the Third District and beyond."
Congress passed the American Rescue Plan Mar. 10, 2021 – for which Congresswoman Trahan voted in favor – which created the FCC's Emergency Connectivity Fund Program. This new program provided funding to schools and libraries to help cover costs of laptop and tablet computers, Wi-Fi hotspots, modems, routers, and broadband connectivity purchases for off-campus use by students, school staff, and library patrons.
Chelmsford was among the 25 school districts and libraries which received $4,346,353.00 in ARPA funding through the FCC's Emergency Connectivity Fund Program. The complete list of Third District recipients is as follows:
Acton-Boxborough School District: $147,597.96
Advanced Math & Science Academy Charter School: $106,900.00
Ayer Shirley School District: $358,000.00
Central Catholic High School: $15,200.00
Chelmsford Public Library: $3,690.00
Chelmsford Public School District: $815,130.70
Clinton School District: $72,417.00
Collegiate Charter School Of Lowell: $90,500.00
Dracut Public School: $110,051.20
Fitchburg School District: $32,340.00
Greater Lowell Regional Vocational School: $163,410.00
Groton-Dunstable Regional School District: $106,000.00
Harvard Public Schools: $112,968.75
Haverhill School District: $823,629.96
Hill View Montessori Charter Public School: $88,335.00
Innovation Academy Charter School: $35,710.00
Lawrence Family Dev Charter School: $158,000.00
Lawrence Family Development Education Fund: $28,354.00
Lowell Community Charter School: $62,623.68
Lunenburg School District: $140,320.00
Marlborough School District: $56,560.00
Maynard Public School District: $55,600.00
Methuen Public Schools: $532,475.80
Nashoba Reg School District: $211,620.00
Perkins Elementary School: $2,918.76
About Chelmsford Public Schools
The Chelmsford Public School District provides all students with multiple pathways to optimize their own potential for academic excellence, leadership, and social and emotional wellness. The mission of the Chelmsford Public Schools is to educate, engage, prepare, and empower well-rounded and knowledgeable learners to PERSEVERE through challenges, demonstrate RESPECT and INTEGRITY in their words and actions, are DEDICATED to their community, and display EMPATHY as global citizens while discovering and pursuing their full potential.  This PRIDE-driven culture enables all members of the school community to support the growth and development of students.  For more information, please visit www.chelmsfordschools.org.