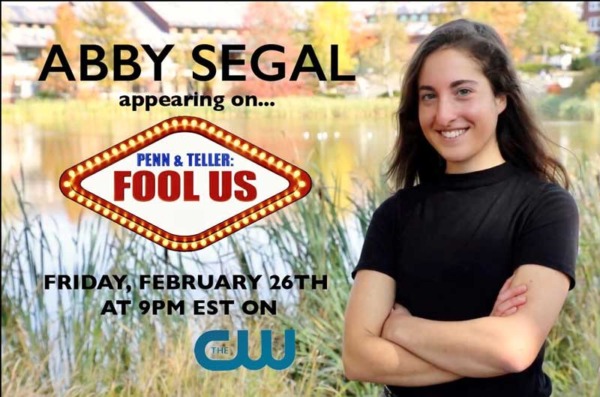 Abby Segal '19 to Appear on Penn & Teller: Fool Us Friday Night
in News
CHELMSFORD, MA (Feb. 23, 2021) – Chelmsford High School is known for its outstanding Fine and Performing Arts program which has thrust a handful of alumni into careers in the entertainment industry.
Abby Segal, a 2019 graduate and sophomore at Bates College, never had the lead role in any CHS production, but she is about to become the latest CHS entertainment industry success story.
Ms. Segal, a magician who has been performing for the better part of the last decade, will appear on Penn & Teller: Fool Us this Friday (Feb. 26) at 9 p.m., on the CW channel (Xfinity 808). The episode is available to stream Saturday, Feb. 27, and thereafter.
The object of Fool Us consists of magicians, usually three per episode, performing magic acts with the hope of leaving hosts Penn Jillette and Raymond Teller dumbfounded, unable to explain their trick. It doesn't happen often, but magicians that stump the renowned duo earn the opportunity to perform at their live show at The Rio All-Suite Hotel & Casino in Las Vegas, where they've enjoyed an 18-year residency.
Ms. Segal, however, can't say whether she'll be returning to Las Vegas to perform. She's been sworn to secrecy since Oct. 18, when the filming of her episode took place at an empty stage set at a near-empty Rio, as part of the agreement for appearing on the show.
She does, however, gush about the whole experience. "They were both very nice and complimentary," Ms. Segal said. "They were both talking to me before the show and they were both on stage with me, that was cool."
The fact that the glitz of Las Vegas was an eerie shadow of itself in the throes of Covid-19 worked to Ms. Segal's advantage (she, along with her mother, Wendy, were among very few guests in The Rio). There was little distraction.
"The Rio was closed, so we were in this bubble for the entire trip," Ms. Segal said. "We had a lot of time at the hotel and time to practice, which was good."
Perhaps the most gratifying part about Ms. Segal's appearance on Fool Us is the fact that she didn't make the cut the first time she auditioned in 2018, the beginning of her senior year at CHS. "I spent two years creating and working on my trick," she said. "I was pretty upset, but when I first went to (Bates), I kind of forgot about it."
Last summer, however, she got word of another casting call for Fool Us, and chose another trick called 'Candy Cards,' which she filmed and submitted to the producers. In August she received an e-mail requesting a script of her trick – a good sign – but still had not received any confirmation she had made the show.
Days went by with no correspondence, thus she e-mailed the producers who quickly replied. They would love to have her, with a caveat: that she perform her original trick, called 'Etched,' which hadn't made the cut two years prior. Repetition is a vital component of performing magic, thus she admits to having to refamiliarize herself to perform Etched.
"I think 'retrain' is the right word," she quipped. "I had to have my mom send all my stuff to me at school." On Sept. 10, she took part on the consultants call, and was told she would perform on Fool Us on Oct. 18, Episode 21 of Season 7, titled Back to the Future.
As Ms. Segal executed under the watchful eyes of Mr. Penn and Mr. Teller, cameras rolling, she said she performed confidently, all the preparation worthwhile. "I knew what to expect," she said. "I think it would've been a little different if there was an audience."
While magicians perform for them, both Mr. Penn and Mr. Teller watch closely and jot down notes to help them decipher the trick or illusion. During Ms. Segal's segment, Teller actually sketched a portrait of her, with a note saying she was a 'wonder-worker' with her props. A producer delivered the note after taping, leaving Ms. Segal very moved.
"It was awesome," she recalled.
As Ms. Segal completes her sophomore year, she is hopeful of performing frequently this summer. She noted she has put together a 'quarantined magic act' and will be showcasing a sample at Bates' Village Club Series, a traditional showcase of comedy, music, poetry and, of course, magic.
She will also continue to post videos – well worth a watch – to her Facebook and Instagram pages, @AbbySegalMagic. When she considers her future, she can't see magic not being a part of her life.
"I always want to use it," Ms. Segal said. "I can see myself doing it fulltime. I always want it to be in my life for sure."
About Chelmsford Public Schools
The Chelmsford Public School District provides all students with multiple pathways to optimize their own potential for academic excellence, leadership, and social and emotional wellness. The mission of the Chelmsford Public Schools is to educate, engage, prepare, and empower well-rounded and knowledgeable learners to PERSEVERE through challenges, demonstrate RESPECT and INTEGRITY in their words and actions, are DEDICATED to their community, and display EMPATHY as global citizens while discovering and pursuing their full potential.  This PRIDE-driven culture enables all members of the school community to support the growth and development of students.  For more information, please visit www.chelmsford.k12.ma.us.