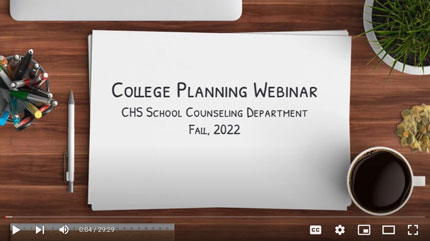 WATCH: CHS Class of 2023 College Planning Webinar
Do you have questions about your child's college application process?
Are you unclear on who plays what role in the process or the different types of admission plans?
Are you just plain overwhelmed and looking for some direction?
The CHS School Counseling Department hears you and warmly invites you to the College Planning Webinar. The webinar will cover the "nuts and bolts" of the college application process, including (but not limited to): an overview of the process and timetable, functional specifics, and best practices.