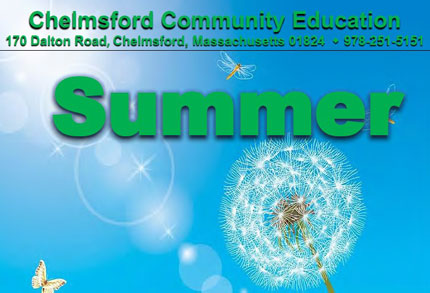 VIEW: CommEd Summer '22 Catalog
Chelmsford Community Education is happy to announce our Summer 2022 programming!
All your favorite programs are back, including:
SummerFest
SummerQuest
Skyhawks Sports
Tennis
Musical Theatre for Kids
Basketball
And Field Play just to name a few
We also have so many amazing new programs to fit everyone's schedule, including:
Half-day preschool programs
Computer & STEM classes
Clay and Sculpting
Costume and Cosplay Fabrication
Hollywood Film Production
Disc Golf and so much more!
Along with our great programming, we also have some fun contests and games for kids and their families this summer:
Passport to Summer Fun Game
Caption This! Facebook Contest
Family Fitness Challenge
We even have a few classes for adults.  Take a virtual cooking class, a virtual basic Spanish class, or try the increasingly popular sport of Pickleball with Senior Men's Double and Mixed Doubles state champion and USA Pickleball Association Ambassador, Donald Van Dyne.
You can see everything Chelmsford Community Education has to offer this summer by going to ChelmsfordCommunityEd.com and selecting the "Programs" icon for the full list.
Registration for all programming opens on Thursday, April 14th at 10am.  To make sure you don't miss out on your favorite programs, be sure to create an account before registration opens.  You can create an account by going to our website listed above and selecting "Create Account" under the "Account" tab at the upper right side of the screen.
Be sure to follow us on social media to keep up with the latest on all the fun at Chelmsford Community Education.  Our Facebook page is "Chelmsford Community Education" and our NEW Instagram page is "CommedWestlands."
Questions?  Contact us at Commed@Chelmsford.k12.ma.us or 978-251-5151.
We can't wait to see you this summer!!