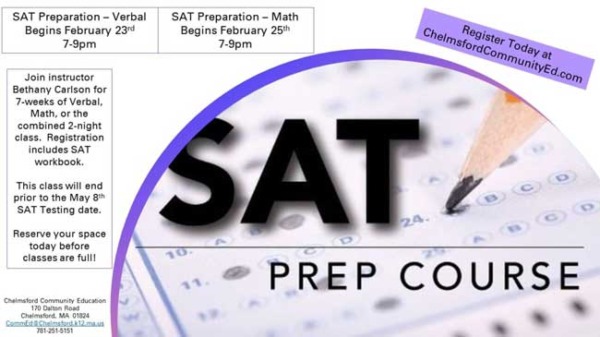 SAT Preparation Course
in
Chelmsford Community Education is offering three seven-week SAT preparation courses concentrating singularly on the verbal and math portions as well as a combined course.
SAT Preparation — Verbal
This 7-week course prepares students for the SAT Verbal test by analyzing the types of SAT verbal questions and developing test-taking strategies. You will increase your vocabulary through direct study, word analysis and by practicing test taking through extensive use of SAT tests. SAT workbook included. Bring a pencil and pen to class.
SAT Preparation — Math
This 7-week course prepares students for the SAT Math test. It is designed to reduce anxiety and increase test scores. SAT workbook included. Bring a pencil, pen and graphing calculator to class.
PLEASE NOTE: YOU WILL BE "WAITLISTED" FOR THIS CLASS AT TIME OF REGISTRATION AND WILL NOT BE CHARGED UNTIL THE MINIMUM NUMBER OF REGISTRANTS REQUIRED HAS BEEN REACHED. WHEN THAT MINIMUM HAS BEEN SATISFIED, YOU WILL BE MOVED FROM THE WAITLIST AND AN INVOICE FOR PAYMENT WILL BE EMAILED TO YOU. AFTER PAYMENT HAS BEEN MADE, YOU WILL RECEIVE AN ADDITIONAL EMAIL WITH LOGIN INFORMATION TO JOIN THE CLASS.
Visit the Chelmsford Community Education website for more details.
About Our Instructor:
Bethany Carlson has taught SAT prep for almost 20 years. At Achieva College Prep Center in San Francisco, she developed original curriculum. Later, Bethany mastered and delivered proprietary techniques for Taming the SAT and Kaplan. When working, she combines the best practices from all of them to create student-centered lessons.
Bethany's experience teaching for several companies has given her a variety of tools to help young people study and reduce their test anxiety. She is thoroughly familiar with the recent content and scoring changes to the SAT. Perhaps most importantly, she knows how to keep high school students awake and engaged in multi-hour SAT lessons.
In addition, when Bethany teaches SAT math preparation, she tailors content review and strategy instruction to students' test goals. A student who is very close to a perfect math score needs different preparation than a student who is starting from a below-average score.
02/23/21